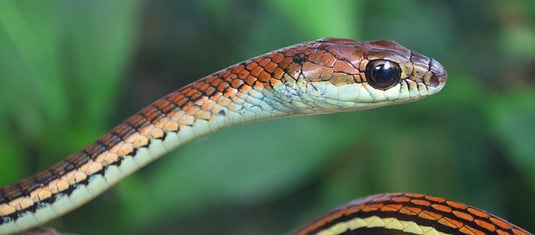 I had a juvenile striped bronzeback a little while back – video here.
These are fast, tree climbing snakes that are active during the daytime and are frequently found in residential areas. They love frogs and lizards, from what I've seen them eat.
These snakes are exceptionally beautiful. They are rather nervous – meaning, they are very aware of what is going on around them – like an Indo-Chinese rat snake – antsy and ready to bolt in a second if given the opportunity. This one is in an aquarium, and when I slid the top off to the back just slightly – it was enough for him to fly out of the top and almost lost in the tree next to us. I was able to get his tail and put him back in the cage without any problem, but it reinforced just how fast these snakes are – similar to the golden tree snakes in speed and habit, personality.