[Page Updated: 19 July 2022]
The red-tailed pipe snake is a beautiful snake, though at first glance you might wonder if it is a snake at all! It has a very flat appearance for the tail region and is very black on the top. The head is so small you might think it's a large fat worm. The eyes are very small. This snake spends a lot of time in the dirt looking for grubs, maggots, and very small larvae and things.
Cylindrophis ruffus ruffus (Red Tailed Pipe Snake)
Thais say: (ngoo kon kob)
Length: max about .9 meters (90 cm, 35.5 inches)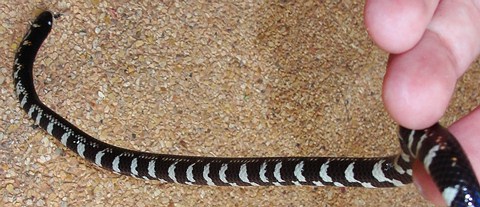 Range: All over Thailand on flat ground and at some elevation up to 1700 meters.
Notes: I had one of these red-tailed pipe snakes at my home to photograph and shoot videos of for two days. They are beautiful snakes. Their top is black and has a radiance like a sunbeam snake – you know that rainbow appearance when the sunlight hits it? Beautiful.
Then, on the underside the bands of black and white don't line up – so it's very different. The bands will turn red and black as the juvenile red-tailed pipe snake ages. The head is very small and the eyes – are almost impossible to see.
I've found these pipe snakes in the fine mesh of roots growing into the water of streams, and also in leaf litter on mud bordering streams. Around my home in Krabi Town, I have found dozens dead on the road in the morning time – especially after rain.
Habitat: The snake lives on the ground and in rat holes and termite mounds, under stumps or rocks, and in other cool, damp places.
Active Time? The snake is mostly nocturnal and is active at night.
Food: Brahminy blind snakes, insect larvae, small frogs, and worms.
Defensive Behavior: This pipe snake hides the head under loops of its body and flips its red tail end up in the air – flattening it – as if like a cobra. Thais call this the 2-head snake because it wants you to think it has two. In an hour of handling this snake, it made no move to bite at all. That doesn't mean it won't, but they are not all that inclined to bite. Their mouth is VERY small and they'd have to catch you just right to bite you.
Venom Toxicity: None that affects humans.
Offspring: This snake has 5-10 young, born live, about 20 cm long (about 8 inches).
Red-Tailed Pipe Snake's Scientific Classification
Kingdom: Animalia
Phylum: Chordata
Subphylum: Vertebrata
Class: Reptilia
Order: Squamata
Suborder: Serpentes
Family: Cylindrophiidae
Genus: Cylindrophis
Species: C. ruffus
Binomial name
Cylindrophis ruffus
Classified by Laurenti in year 1768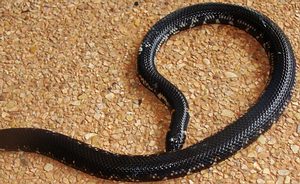 Here is Fred, one of our interns, showing a Red-tailed Pipe Snake he found on one of our field trips:
Herping in Thailand | Catching My First Snake in Thailand | Red Tailed Pipe Snake