Non-venomous
Snakes in Thailand Non-Venomous Snakes 1 – Photos, Videos, Links
Did you get our FREE PDF file yet?
PHOTOS OF COMMON THAILAND SNAKES!
It's HERE>
83 pages
many snakes featured: Cobras, Kraits, Pit Vipers, Corals, Rat Snakes, etc.
facts and photos!
Very Common Non-Venomous Snakes in Thailand
[Last updated: 2 June 2022]
Thailand has around 185 snake species considered non-venomous, or mildly venomous and not a threat to human beings. Though these snakes are not known to be dangerous to humans, that doesn't mean that they are not.
The red-necked keelback, for instance, was a snake kept in aquariums across the world for years before the first deadly bites occurred. Turns out that they have a very strong venom that can be delivered with prolonged or multiple bites. Do be careful with all snakes.
Chrysopelea ornata. Golden Tree Snake
These snakes are very common in Thailand and it is probably the most commonly seen snake among tourists and Thai locals. They are at home in the bushes and on the ground during the day.
They are excellent climbers and prefer to eat the tokay geckos and other geckos. These snakes have a mild venom that can kill or disable birds and other small animals. It is not likely to affect your dog or cat, if bitten.
Info Sheet – Golden Tree Snake / Flying Snake (click)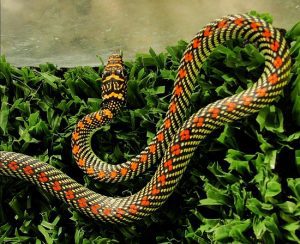 Golden Tree Snake Video
Juvenile Chrysopelea ornata with Bright Colors:
Thailand VLOG | Golden Tree Snake Venomous and Super-Fast 🇹🇭Thailand Living
Paradise Tree Snake Video – Catching Chrysopelea paradisi from a Tree in Southern Thailand:
Chrysopelea paradisi - Paradise Tree Snake - One of prettiest Thailand Snakes
Ahaetulla prasina. Oriental Whip Snake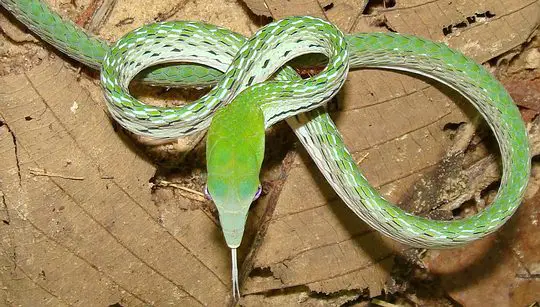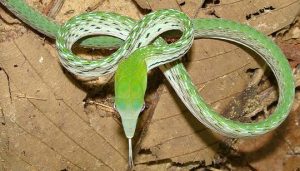 The oriental whip snake is a really gorgeous snake with a very thin body – up to two meters in length. The color is usually bright green, but there are some which are grey, brown, or even yellow. This snake is harmless for people, but has a mild venom which affects lizards and birds they prey on. Easily recognized by it's very long head in the shape of an arrow, and another feature, harder to see – the tongue stays out when annoyed.
Ptyas korros. Indo-Chinese Rat Snake
This rat snake is also very common no matter what type of weather or season. These are terrestrial (land-based) snakes with excellent climbing skills. They hunt lizards and other small animals on the ground during daylight hours. Rat snakes have no fangs, but their saliva is known to contain venom proteins. Nobody has been recorded in the literature as having been envenomated significantly by these snakes. Color varies from brown to grey or black.
Info Sheet – Indo-Chinese Rat Snake (click)
Indo-Chinese Rat Snake Video
A Juvenile Rat Snake – Brown with Light Banding Typical of Young Ptyas korros in Southern Thailand:
Baby Rat Snake - Ptyas korros - Thailand Snakes
Coelognathus radiata. Copper-headed Racer / Radiated Rat Snake.
These rat snakes are common around trash bins, and anywhere rats and other rodents can be found. Though they are primarily terrestrial, I have seen one 3-4 meters up a palm tree raiding a bird nest of its young or eggs. These are strong, very fast striking snakes with a lot of nervous energy. Like the other rat snakes, it has no fangs with which to deliver venom.
Info Sheet – Copper-headed Racer (click)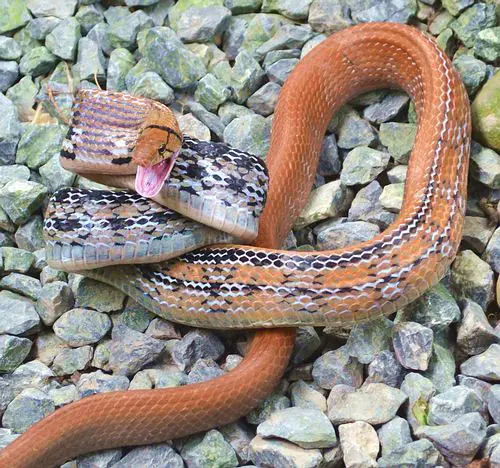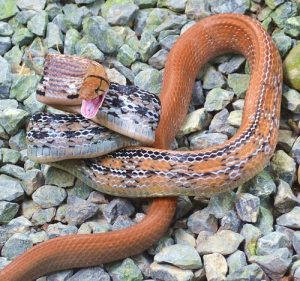 Copper-headed Racer Video
Adult Copper-headed Racer (Radiated rat snake) – Letting Go in Wild:
Big Rat Snake I Caught in Thailand - with SURPRISE
Kukri Snakes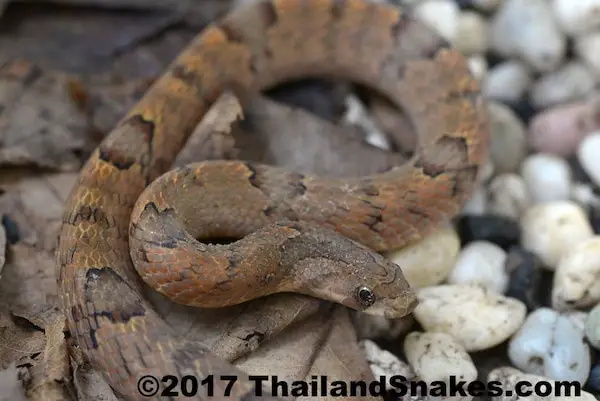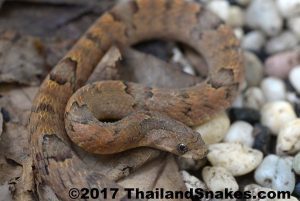 Kukri snakes are found Thailand wide – and nearly all of them have the distinctive pattern on the top of the head as shown in the image above. Kukris are ground snakes which like cruising through and around the leaf litter. They eat eggs of all kinds, and small animals. While they are not venomous, they do have enlarged rear teeth which are shaped like kukri knives. They use these specialized teeth for cracking eggs so they can drink the inside yolk.
Did you get our FREE PDF file yet?
PHOTOS OF COMMON THAILAND SNAKES!
It's HERE>
83 pages
many snakes featured: Cobras, Kraits, Pit Vipers, Corals, Rat Snakes, etc.
facts and photos!