rear-fanged
Dog-Toothed Cat Snake – Boiga Cynodon Photos
If you want to see our Fact Sheet for Boiga cynodon – Click Here.
Two photos of one of my favorite of all Thailand snakes – the dog-toothed cat snake. These are the longest of the cat snakes and get nearly 3 meters in length. They have a strange shaped head, as most cat snakes – and some would swear it was a viper. Many Thais see the triangle shaped head of these snakes and kill them immediately. Well, wait a sec, what snake DON'T Thais kill immediately?
These are primarily egg and bird eating snakes. Frequently they are caught after eating a bird in a cage, and they cannot get out of the cage. Birds seem to know this snake is a bird-eater because sometimes the way you find these snakes is to go see what the birds are squawking about – if there is one of these snakes in a tree near a nest – you'll know it when the birds know it. All the Thai bird-keepers are familiar with this snake because they see them often.
These dog-toothed cat snakes have extraordinary patterns. The yellows and browns are amazing together and it's definitely one of the most pleasant looking snakes you'll find in Thailand – and maybe anywhere.
Here is another shot of the same snake, Boiga cynodon. It's about 2 meters long. Notice the shape of the body, the cross-section. It has a very high vertebral ridge. These snakes can climb VERY well.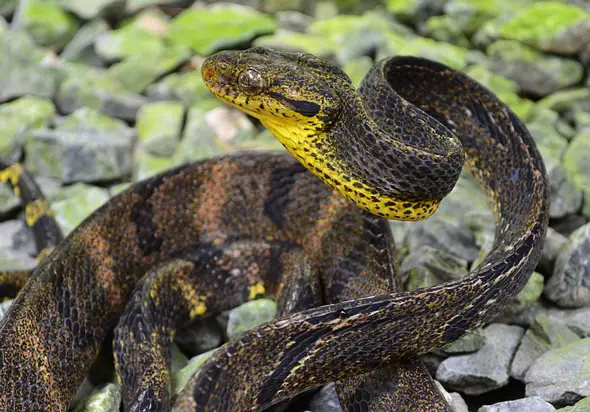 I have some video of a larger Boiga cynodon caught here in southern Thailand and a fact sheet for the snake at the link below: