Non-venomous
White Bellied Rat Snake – Non Venomous – Not Dangerous
White Bellied Rat Snake – Ptyas fusca
Thai: ngoo sing thai
Length: up to 290 cm
Description: Fusca comes from the Latin, fuscus, meaning dark or dusky. In adults, the body and head are brown. The head is long and distinct. The head resembles Ptyas korros quite a bit unless they are side-by-side, I don't think I could tell them apart by head shape. Eyes are large and pupils are round.
There is occasionally a red stripe down the vertebral column. Some light banding can be seen laterally in some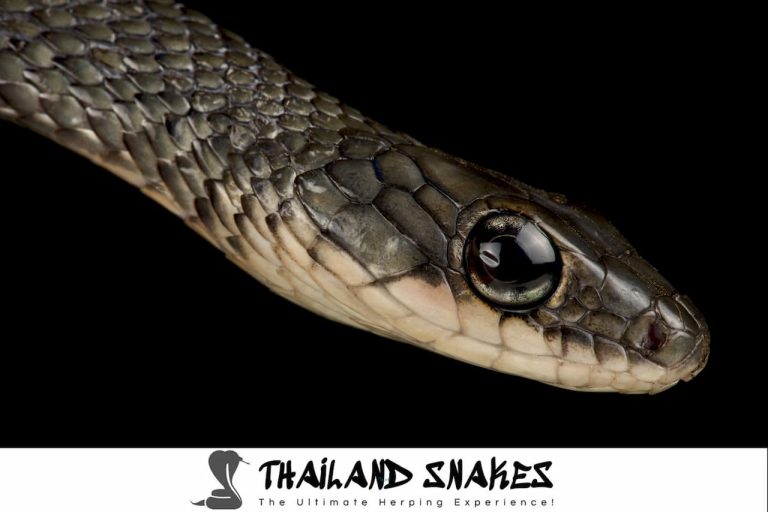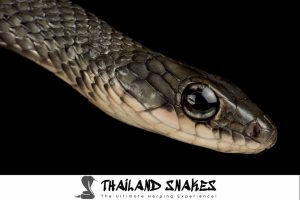 snakes. The tail can be black. There is a black lateral stripe that stands in contrast to the whitish of the venter, unlike other rat snakes.
In juveniles of this species, the head, neck, and almost to mid-body can be a green tint. There can also be a noticeable pattern/banding that disappears with age.
Range: This rat snake has been found in Peninsular Thailand in Nakhon Si Thammarat, Krabi, Trang, and Phang-Nga provinces. It is likely resident in many forests in Southern Thailand.
Habitat: Found in primary and secondary evergreen forest and rubber plantations.
Behavior:  This snake is terrestrial and diurnal, sleeping at night on tree branches. When disturbed it raised up vertically and holds position, almost like a cobra. I have also seen this snake do this on the sides of roads to look up over the grass to see if the coast is clear to cross.
Active Time? Diurnal.
Food: Primary prey is birds, rodents, and lizards..
Defensive Behavior: Quick strikes, not necessarily from a coiled position or S-shape. After some handling, some of these snakes will calm down and cease striking.
Venom Toxicity: No fangs to deliver venom.
Danger: No danger from venom, but these are biting snakes that may inflict some lacerations/puncture wounds.
Offspring: Oviparous.
Notes: I have not caught this snake in Southern Thailand yet, but I have seen them occasionally on the side of the road. I have also handled one in captivity. They are quite different looking from the other rat snakes of the area.
Kingdom: Animalia
Phylum: Chordata
Subphylum: Vertebrata
Class: Reptilia
Order: Squamata
Suborder: Serpentes
Family: Colubridae
Subfamily: Colubrinae
Genus: Ptyas
Species: P. fusca
Binomial name: Ptyas fusca
(Günther, 1858)