[Last updated – 4 June 2022]
Malayan Bridle Snake – Dryocalamus subannulatus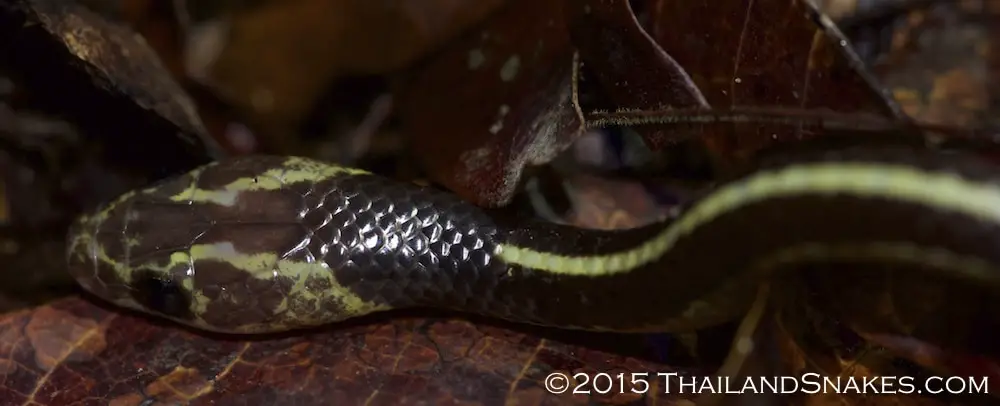 Length: 70 cm
Description: This is a thin snake less than the thickness of a finger. It has a light yellow mask and comes in one of two color pattern variations. Shown here is the pattern with a brown background and longitudinal stripes running from neck to tail. There is one along the vertebral ridge and one on each side. The eyes of this snake are rather large compared to the very small head. The head is slightly smaller than the neck of the snake. There are two very small rear-fangs seen upon inspection of the mouth. The head of this snake is not elongated in a long triangle like the Lycodon family of snakes – which is one way to tell the difference.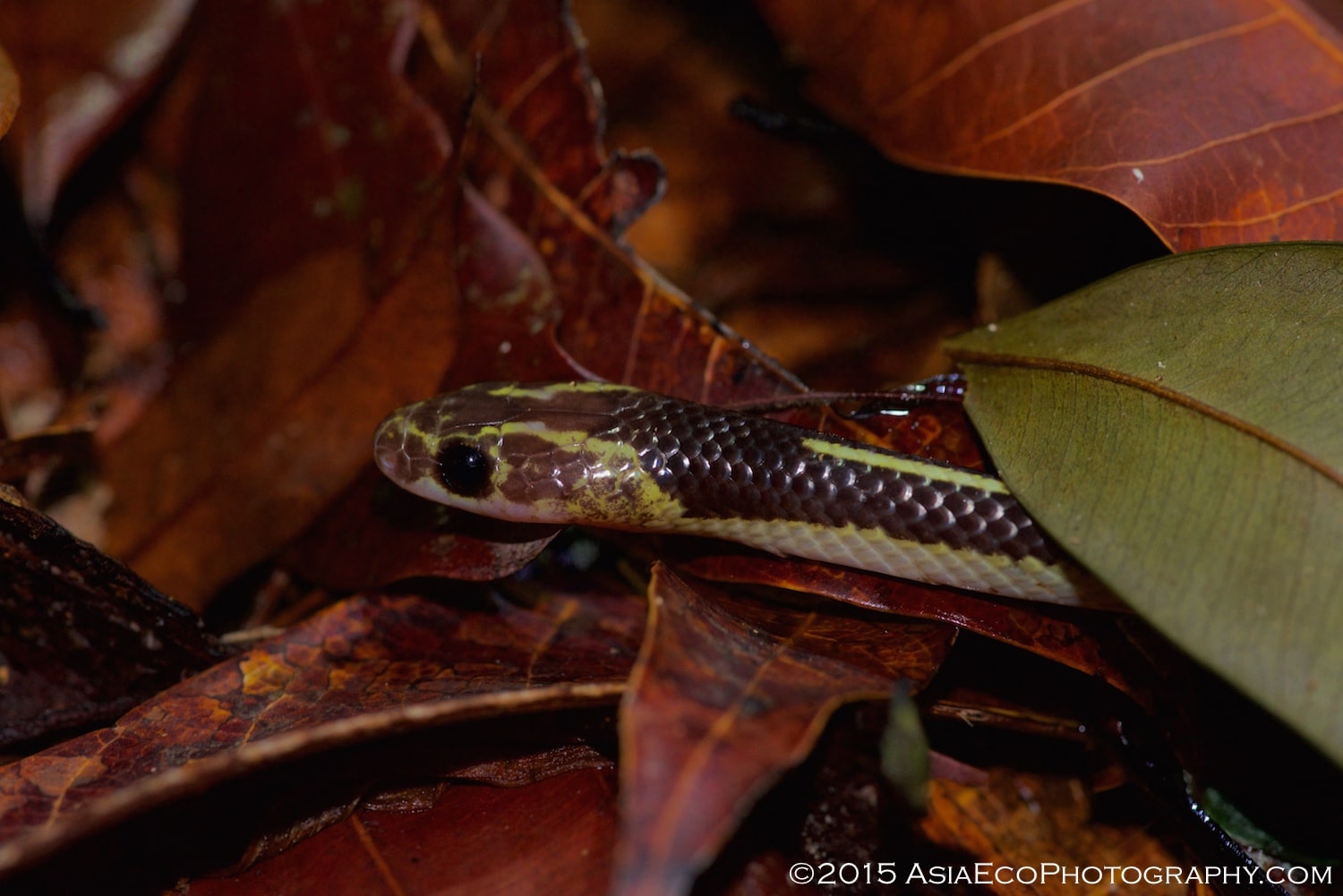 Range: Thailand's southern provinces. This snake was found in Krabi province at 450 meters elevation at 2200 hours two meters high on a thick tree covered with moss (see photo below). I have also found them at 200 meters elevation in evergreen forest and around 100 meters on a sloped rock face.
Habitat: Bushes, trees, and dwellings. This snake is not as common as the Laotian Wolf Snake, but likes the same kind of habitat – but is usually climbing on something. It searches trees and structures for geckos primarily. They are excellent climbers and love vines and light brush.
We have found them on guardrail, on thick trees with heavy (rough) bark. I have found one on my kitchen floor and climbing concrete walls in our yard.
Active Time? Usually nocturnal.
Food: Small geckos and frogs primarily.
Defensive Behavior: I have yet to see this snake strike, even after handling a half-dozen of them. Usually they are very calm.
Venom Toxicity: Weak or none. Ineffective for humans if there is any venom. The fangs are quite small – less than the diameter of a regular stick pin.
Offspring: Nothing known about this area.
Notes: These are great snakes for first time snake hobbyists to handle for a short time in the wild. If they are striking initially, they quickly calm down when held for a short time. There is a very real danger of mistaking these harmless snakes with a Malayan, Many Banded, or Banded krait – all of which are deadly. Kraits can get bigger than 1 meter. This snake, and the other harmless black and white banded snakes – will not get over 70 cm generally.
Scientific classification: Dryocalamus subannulatus
Kingdom: Animalia
Phylum: Chordata
Class: Reptilia
Order: Squamata
Suborder: Serpentes
Family: Colubridae
Subfamily: Colubrinae
Genus: Dryocalamus
Species: D. subannulatus
Photo taken in situ, Ngorn Nak Mountain, Tub Kaak Subdistrict of Krabi Province, Southern Thailand: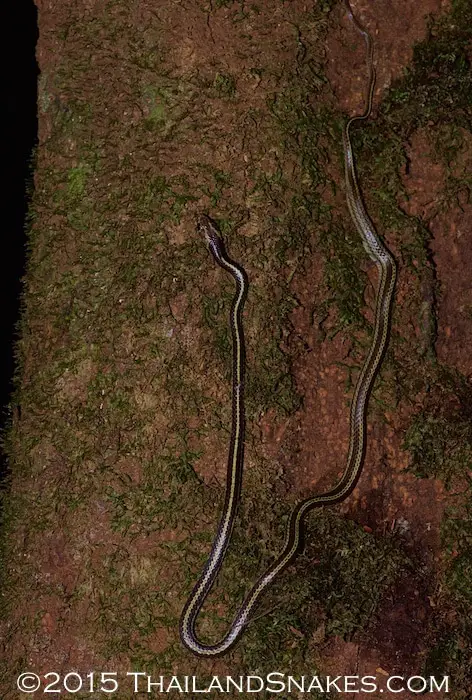 Malayan Bridle Snake – second pattern (more common):