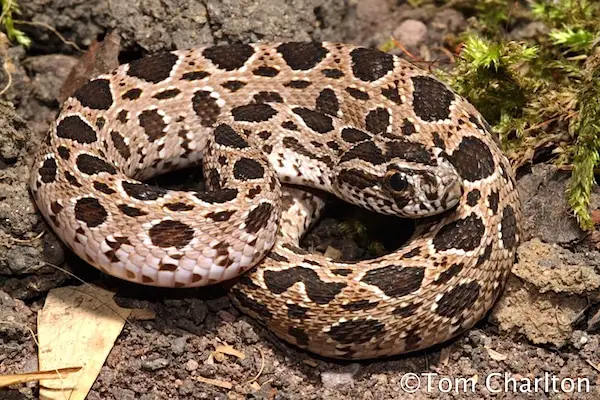 The Siamese Viper, Russel's Viper, or Chain Viper. Daboia viper snakes kill more people across the globe than any other snake. Their fangs are long, strong, and permit a lot of venom to be transferred in an instant.
ONE OF THE COMPLICATIONS OF A BITE FROM THIS SNAKE IS THAT A MAN'S TESTICLES MAY SHRIVEL (testicular atrophy), AND THERE MAY BE A LOSS OF PUBIC HAIR.
Even 3 Years AFTER THE BITE!
(Source – WHO – World Health Organization publication, "Guidelines for the Clinical Management of Snake bites in the South-East Asia Region.") Here is an abstract from a paper written on the topic.
Needless to say, this is NOT a snake you want to be bitten by. Curiously, this is one snake I don't see the freehandlers picking up.
THAILAND LOCATION –  This species is located in Central Thailand – meaning Bangkok, Pattaya, and surrounding areas. There is no reason it couldn't be found outside that range because ranges often change as snakes are discovered in places they previously were not found. They do prefer dry air to humid, and are not found in dense forest.
This and other species of Daboia are also found across much of Asia.
CAUTIONS – The Siamese viper is a primarily nocturnal snake that crawls along the ground. It is found on paths, sidewalks, in backyards, and really almost anywhere. Do not walk at night without a flashlight. Do not walk in high grass or plants where you cannot see clearly to the ground. This is the type of cover these vipers may be found in, day or night.
ANTIVENIN – monovalent, "Russell's Viper Antivenin." Developed at the Queen Saovabha Memorial Institute in Bangkok, Thailand.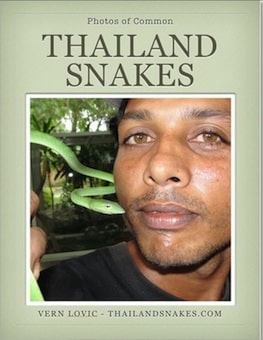 Scientific classification
Class: Reptilia
Order: Squamata
Suborder: Serpentes
Family: Viperidae
Subfamily: Viperinae
Genus: Daboia
Species: D. siamensis
Image Copyright ©2011 Tom Charlton.