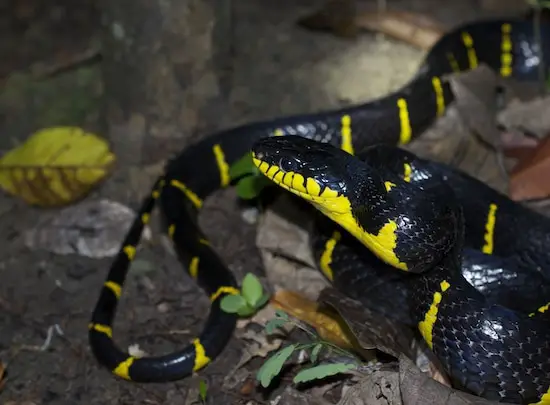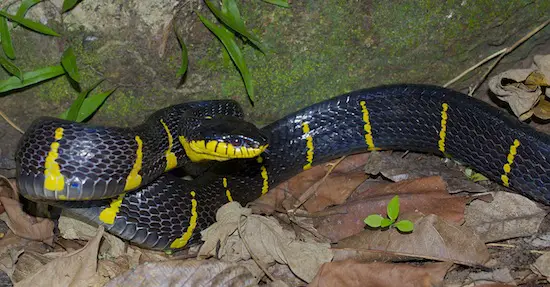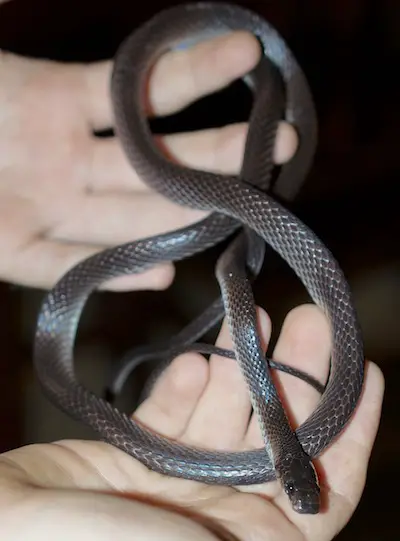 Last night I got out to go herping with Anders from Denmark. We went to the usual spot, I arrived at 6:20 pm. As I was pulling into the parking lot I saw a small (30cm) bronzeback snake coming across the dirt road. I slowed, stopped, and jumped out with a snake bag in my hand, intending on trapping him with it before grabbing him.
I hate being bitten by anything – even a harmless snake. It's no good for the snake either as they can lose teeth when they bite strongly.
The snake had other plans and reversed course immediately disappearing into the thick brush as I ran after it helplessly. This one was smart.
Met up with the guys and took some photos of the Lycodon albofuscus Anders had brought over for a show and tell. He said it was the snake he had the hardest time with for photos – and hoped to get better ones. We did, it was exceptionally calm this night and we both got some great shots.
We grabbed some water and headed out for a 3-hour herp that turned up nothing. Well not nothing, we saw numerous lizards and geckos, some cool frogs, bats, spiders, but no snakes. I was out in front of the other three guys (Richard came as well), and headed up to the pools of water to see what I could find.
It wasn't long before – Bang – I saw a common wolf snake (Lycodon capucinus) cruising up a rock beside me, then down to hit the walkway… I followed him for a while, just looking at him closely. I've caught so many of these snakes I don't bother with photos.
It's a pain to drag the camera out of the bag and set it up. I'd have had to stop the snake from his journey to get my stuff ready. As it turns out, Anders wanted to see a good specimen of that snake, and wanted better photos – but I didn't know at the time. Oops.
Walked some more and Bang – a mangrove cat snake of maybe a meter and some in the palm tree above me about 20 feet high. I yelled SNAKE and tried to get the other guy's attention. As I did I was shining my torch (flashlight) on the restaurant where they had gone back to eat.
Bang – another big mangrove cat snake swimming in the moonlight. Wow… I love to see that. Wish I had a video of it, but it happened too quickly. He came right over to the bank below me. I crept down and grabbed him with the tongs and by the tail with my hand and picked him up onto the sidewalk.
He was big and lively – 2 meters easy, thick like my wrist and almost my forearm. Beautiful snake. Photos above are of that snake.
We shot some photos and a quick video and kept going. It was about 11 pm (2300 hrs) when Anders yelled "KRAIT" from down in the rocks. We all got down there immediately and were rewarded with a 1 m+ Blue krait (Malayan krait), Bungarus candidus. Most venomous terrestrial snake in Thailand – as long as there are no Bungarus multicinctus running around in the north, which I suspect there must be.
We shot photos and videos and then shortly after, called it a night.
I get a message this morning on my phone from Anders…
"Hey Vern, I wasn't tired when you left last night so I went out alone and caught a very rare snake. I put it in the backup box I brought. Even more, reason for you to come out today. Could be a new subspecies or even a new species in itself!"
I can't believe the nerve of that guy! Going out without me! I thought he was going to go sleep…
Anyway, so looks like I'd better get out there today and see what he found.
Come to Thailand to check out the reptiles, amphibians, birds, whatever it is you're into. This place is a paradise for nature lovers.
Tonight we'll go to another 2 different mountains that I rarely get to herp at. Should be a blast. Will post photos, and videos, if we get something.
Cheers,
Vern
More Herping Info >