I sent photos of a snake just like this one to a couple biologists about 5 months back. Nobody could tell me what it was, based on appearance. A couple guys that have found new species in this area have said it is, without a doubt, from the Oligodon genus. They asked that I do scale counts. I had to figure out what a scale count was. Today I just went through some snake scale diagrams to figure out some other things. Pretty fun stuff, playing amateur biologist.
If you know what this snake is by the information given below – do let me know!
Geographical location: Southern Thailand, Krabi province.
Elevation found: 200 meters
Habitat: On ground, with head buried in hole near garbage can on limestone mountain.
Length: ~ 36 cm.
Girth: 5-6 cm at mid-body, thickest section.
Loreal scale? Yes.
Postocular scales: 3
Ventral scale count: 160
Ventral pattern? Yes, irregular spots (yellow/white) and shapes toward the middle of each scale. Outer edges of ventral scales are grey to dark grey. I have also caught one of these snakes that looks the same except the ventrals are grey without spots.
Gular: 4 sets of 2. I'm a bit confused about this. Are ventral scales ONLY solid – if they are solid the whole way down the body? Because there are 4 rows of split scales that could be called Gular I guess… but if ventral scales can be split too – they could be included in the ventral scale count.
Subcaudal scale count: 51. They are split.
Anal: it is solid, just one scale, not split.
Scale counts: Diagonally 17. Alternating back and forth straight over and to the other side: 17.
Color: The true color of the top of the back of this snake is dark olive green. It lightens slightly going toward ventral side. The head is slightly darker overall than the body, but not much. The side view of the head (below) isn't a true color representation.
Photos below: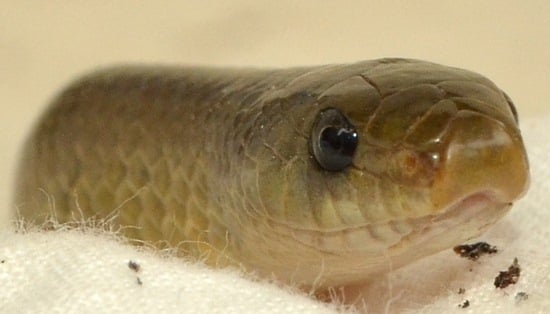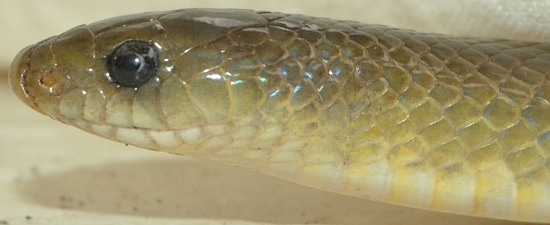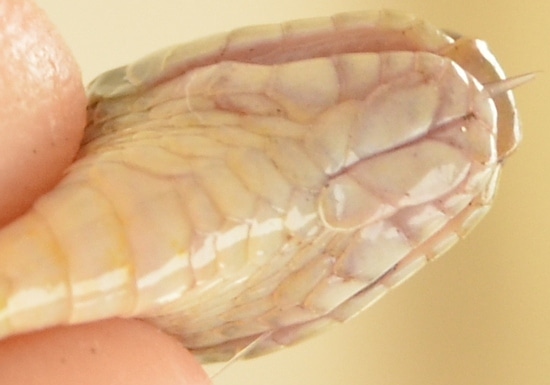 Photos, information, and video of another snake just like this (click link)