2022-2023 Snake, Reptile Internship (Hands on) in Southern Thailand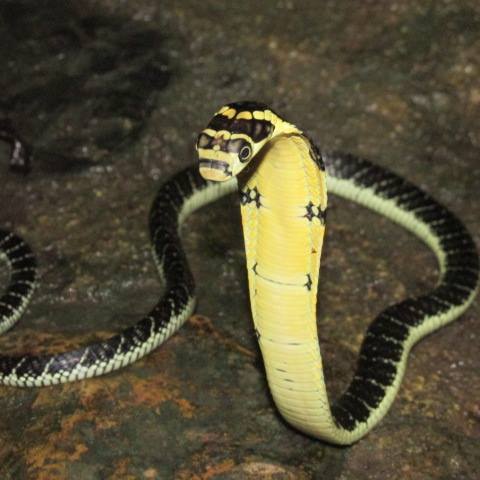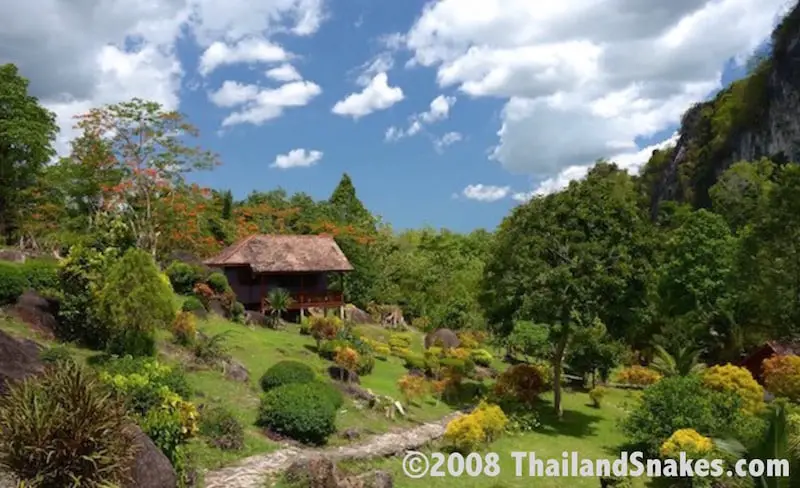 [Last updated: 1 May 2023]
2022-2023 Snakes & Other Reptiles (Herpetology) Internship in Thailand
This is an intensive experiential internship designed to give venomous and non-venomous snake-handling experience to anyone with the sincere desire to learn.
Note – though we focus on snakes in this announcement, we have also had people study lizards, geckos, frogs, spiders, and insects.
A one-week internship is usually enough for interns who want to do 1-2 field trips per day to find snakes and other reptiles. Within a week, we should be able to find a dozen snake species as well as gliding lizards, gliding geckos, monitor lizards, tokay geckos, and a large variety of reptiles, mammals, insects, and arachnids in the rainforests of southern Thailand.
Three-hour field trips can be arranged in the morning or evening, as you choose. Your lodging and food is your responsibility, but we can, of course, help you set up these essentials during your stay.
Read over the information below describing the Snake/Reptile Internship, and send us the email requested. We'll respond back quickly.
Cheers!
---
NOTE – You need not be a student in a university to join this reptile internship.
We will again be offering the opportunity for up to 8 persons each month in 2022 and 2023 to stay in Southern Thailand with us to study and work with snakes (reptiles), amphibians, insects, or whatever wildlife you're interested in.
We are especially interested in and knowledgeable about snakes and other reptiles, but all are welcome. You need not be a student of biology or a conservation major at a university to take part in this unique learning environment.
Most of our applicants are just graduating from high school and want to get more experience finding and handling reptiles of all kinds, including venomous snakes.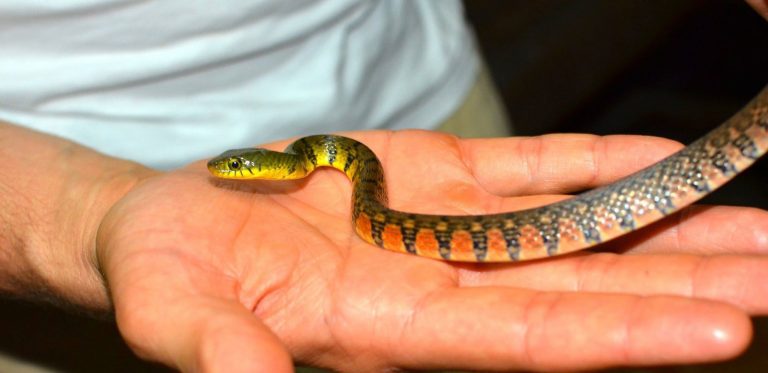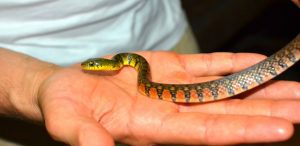 This is a very unique opportunity for someone 18 years and older who is mature and interested in coming to Thailand for 7 to 60 days to learn as much as possible about snakes and other wildlife in this area.
Participants can bring their own research projects, or follow a custom schedule to maximize experiential learning. (We have access to a large variety of reptiles, insects, and arachnids for your studies. (Reptile Species List here.)
This primarily self-guided experience can be adapted to fit your needs. If you want to obtain a lot of experience finding snakes or other reptiles or wildlife in the rainforest – we can focus on teaching you the skills needed to find them.
If you want to become better at handling non-venomous or venomous snakes, we can help you accomplish that.
We want to help you fulfill your goals and objectives while here. You will use your time to accomplish as much as possible. While we will suggest some general goals, each internship participant will come up with a list of objectives to complete during the internship.
SCHEDULE – Sign up for these months
You can sign up for 1-8 weeks in the following months:
2023: June, July, August, September, October
2024: April, May, June, July, August, September, October
INTERNSHIP ACCOMMODATIONS
Participants in the program will be housed in a bungalow similar to the one shown below at a wilderness resort primarily. There may also be some short field trips where we'll stay in bungalows or hotels elsewhere.
Single bungalows are the norm (smaller than the one pictured below), or if we have a group, we may get one of the large houses (shown). Your room will usually have a bed, table, chair, fan, and hammock on the porch or balcony. There are restrooms in each bungalow with hot water showers.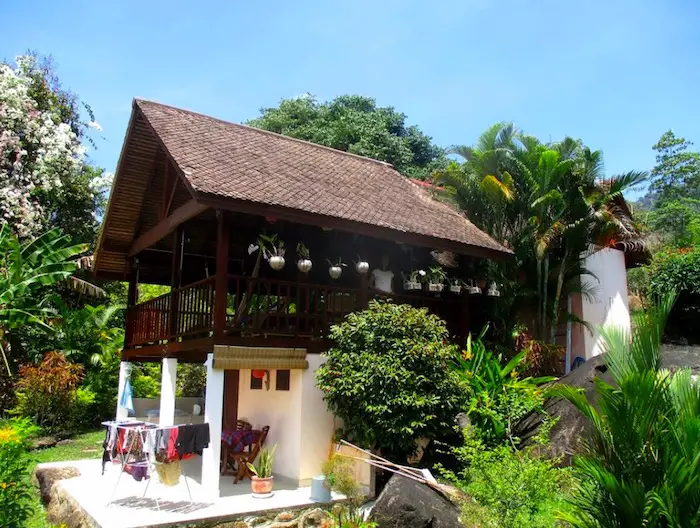 REPTILE INTERNSHIP ELIGIBILITY REQUIREMENTS
General
Male or Female; 18 yrs or more; Mature; High school graduate; English (speaking). Can communicate effectively, professionally, and politely with others. A positive attitude and strong work ethic are necessary because occasionally hours will be long and the weather can be warm and humid or pouring down rain.
Interest / Motivation
Participants should have a very high interest in learning about snakes or other reptiles and wildlife local to the Krabi, Thailand area. Interns should have an insatiable desire to learn more because the opportunity to be exposed to such a variety of wildlife here is what makes this internship one of the best in the world.
Intern Background
Students coming for the internship should be comfortable handling non-venomous snakes and other reptiles on a daily basis or be willing to learn. We are really looking for people with a very strong interest in the subject. College doesn't matter. Experience doesn't matter. The key is the desire to learn.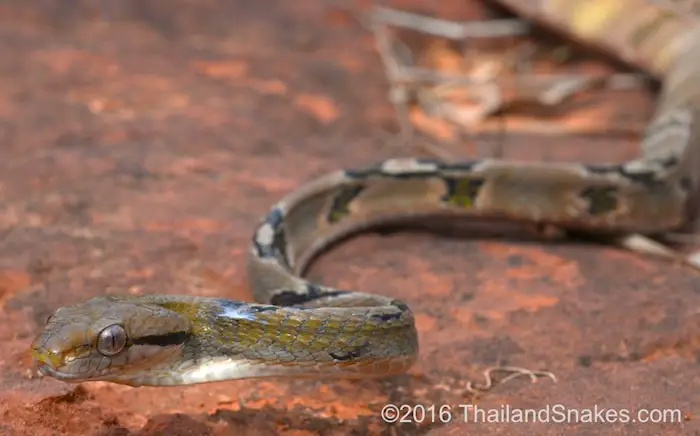 Physical Condition
Participants should be able to walk around in warm, humid weather. June temperatures in our area are around 29-30°C (84-86°F) on average. In July, temperatures cool a bit and are typically around 28°C (82°F). October is cooler, around 26°C (79°F).
Participants should have no problem walking for a couple of hours on flat ground, and trail hiking up small hills of 500 meters elevation occasionally (and slowly). No limiting medical conditions. Healthy, with no life-threatening illnesses or known allergies that may be exacerbated in Thailand.
Insurance Requirement
You will need either comprehensive health insurance which covers your stay in Thailand or, cash available to pay for treatment in case of an accident (around $3,000 USD in case of venomous snakebite). You'll be required to sign a waiver stating you have one or the other.
Our Snakebite Safety Record
For nearly fifteen years we have had a flawless safety record. We're proud of that, and we take safety very seriously. We have never had anyone on our field trips bitten by a venomous snake and we've been doing this since 2008. In the case of an emergency, we have well-equipped hospitals within a short drive.
All hospitals are required by law to have anti-venom for common venomous snakes found in our area (pit vipers, kraits, cobras).
Participants in the reptile program will gain an incredible amount of knowledge and have life-changing experiences – including:
gaining skill and confidence in locating snakes and other reptiles in various habitats – freshwater, saltwater mangroves, ground, trees, caves
learn snake handling – non-venomous and venomous snakes (if you choose)
increased knowledge about snake behavior, hunting, feeding, diet, sleep, threat displays, striking, snakebite treatment
participants will learn which snakes are the most venomous and the most dangerous and how to protect against bites
dozens of hours in the field looking for reptiles, amphibians, and insects in the rainforest – day and night
rainforest photography and videography tips
A TYPICAL DAY FOR AN INTERN?
There is really no 'typical day' per se. Before your internship begins, together we will create a schedule that covers all the topics and skills you want to learn during your time studying snakes/reptiles/amphibians in Thailand.
This is an intensive program with two free days per week if doing 2 weeks or more. If here for just one week – we go straight through it for 7 days. We sometimes have excursions to field-herp new wildlife locations and we may need to travel by vehicle for a couple of hours to reach a location.
We have a number of herping spots close to us including primary forest, rubber tree plantation, bamboo forest, grounds of the wilderness resort, national parks, caves, and mangrove areas.
On a Daily Basis, Snake Internship Participants May:
eat breakfast, lunch, and dinner in our excellent on-site restaurant
assist in the maintenance of a small temporary reptile collection
participate in day and night field trips
document new animals found during field trips
gain experience with non-venomous and venomous snakes, lizards, geckos, and other wildlife
handle non-venomous, and mildly venomous snakes with the option to learn about handling venomous snakes under tightly controlled conditions
log data online
perform other duties like keeping bungalows, clothes, and supplies clean and in working order (phones, headlamps, etc.)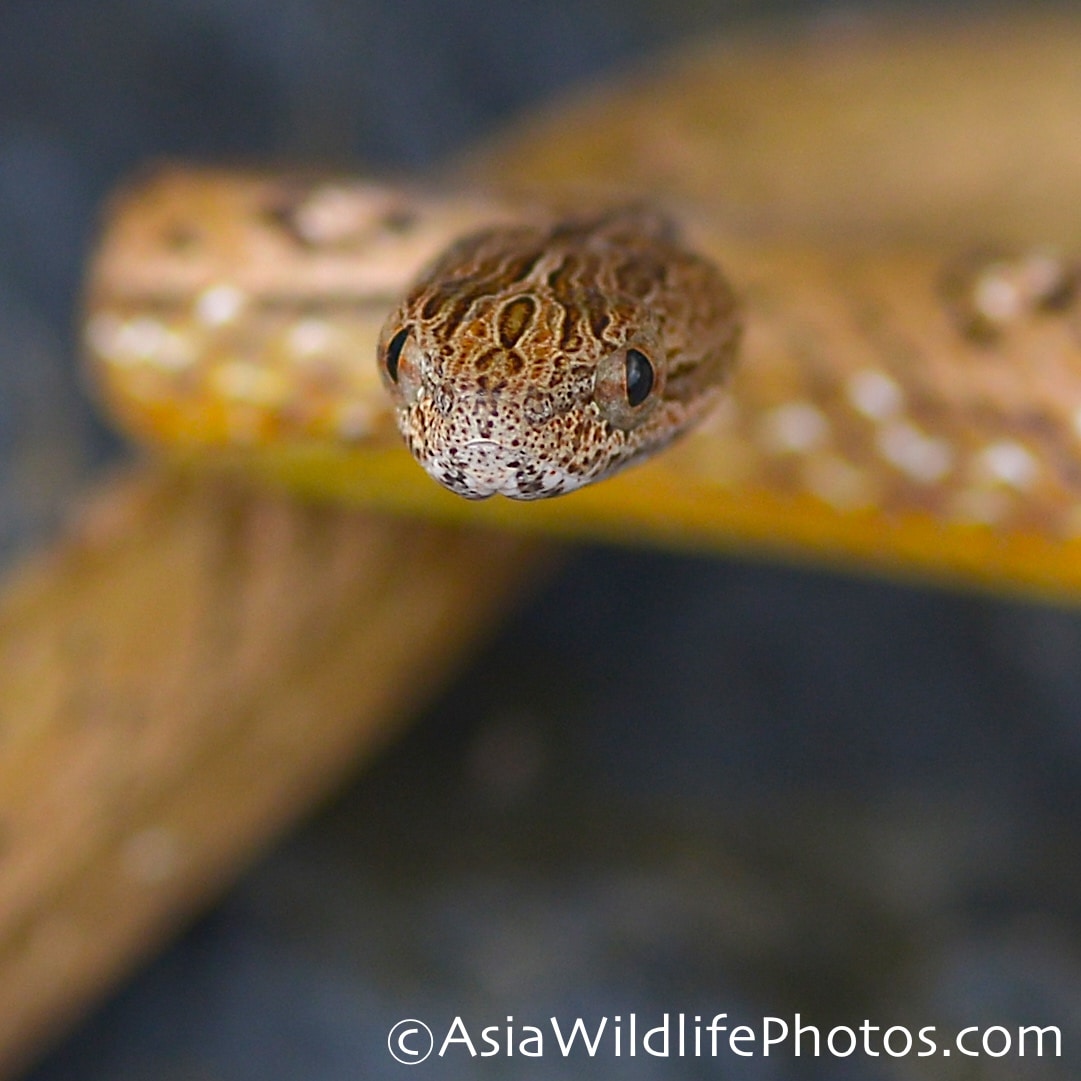 Extra Activities We Can Arrange (not included in price)
swim in the freshwater pool
set up bug sheets with lights at night to see what we find
visit hot springs and other freshwater springs in the area
the beach is less than 15 km (< 9 miles) from our location
shopping malls are a short 15-minute drive
4-island boat tour, Railay Beach boat trip, hiking
Note – these are extra activities you can do on your own, we can, of course, help you set them up with local tour groups.
WHAT TO WEAR AND BRING?
Herping in Thailand – The Essentials. This is a helpful page that lists some of the essential clothing and tools you will want to bring with you for your internship. If you don't bring your own headlamp, we have some here that you can use.
2023 DEADLINES?
There is no set deadline. We may choose to accept interns at any time. It is better to send your application in as soon as possible.
NOTE – WE ALREADY HAVE PEOPLE APPLYING, AND WE HAVE ACCEPTED SOME APPLICANTS IN 2021. APPLY RIGHT NOW TO ENSURE YOU HAVE A GOOD CHANCE TO GET IN DURING THE WEEKS YOU PREFER!
Reptile Internship Fees
One week (minimum stay) – $1,450 (USD) – 7 days, 6 nights
Two weeks – $2,400 – 14 days, 13 nights
Three weeks or more – we'll give you a custom quote.
Over the years, we have added more things to do, and sourced better accommodations. We encourage you to look at reptile programs all over the world and see if you can find something that compares.
Where can you get venomous snake handling experience in the USA? Europe?
We pride ourselves in offering the most unique and complete experience available. Your internship will be a once-in-a-lifetime experience – we're sure of that.
Please note, this is not a paid internship.
We have had countless people write to sign up, not realizing there is no salary at all. The amounts shown are what you need to pay to take part in this experience. This is what you will need to pay to cover your costs. We are not funded by grants or outside agencies. We have a great location and expertise, but no grants to cover all our expenses.
Snake Internship Fees Include:
Transportation (Krabi International Airport (KBV) and Bus Station Transfers), between herping locations and back to the bungalow.
Instruction, guidance, supervision, and assistance with research projects.
Supplies while here (T-shirts – to keep), rubber boots, snake bags, snake hook, tongs, headlamp, etc.).
Fees Do Not Include:
Food – food is available onsite at the restaurant overlooking the lake. The food is excellent quality, and they are accustomed to making some Western dishes along with traditional Thai. The level of spice (hot) can be adjusted for your taste. Average meal costs are about $12 per day. Water, soda, and beer are available in the refrigerator at the restaurant. We don't include food in the total fee because we found that everyone eats different amounts. Some people even prefer to bring some of their food.
Lodging – bungalows are about 700 THB ($20 USD) per day, depending on whether you come in low or high season.
A non-refundable deposit of 30% is to be paid upon acceptance. We can send an invoice by email which you can pay using a bank-to-bank transfer with our bank in the USA or Cryptocurrency exchanges are possible (BTC, ETH, DOT, SOL, KSM, etc.)
Whatever balance is left outstanding can be paid in USD or Thai Baht when you arrive for your internship.
Long Term (multiple months)?
We may accept a candidate for two successive months (or possibly longer), but we must be notified well in advance that this is your intention. We will figure out a special rate for you. Send the application below.
Reptile Internship Application – send an email and address the following
Our eMail:

Full name, gender, age, address, country of citizenship, email.
Which day, month(s) and year would you like to start and for how long will you stay?
Will you be coming as part of a group (two or more?)
Any allergies, phobias, physical or mental illnesses? Please explain fully.
Have you been in a jungle/rainforest environment before? Provide details – when, for how long, where, and doing what?
What is your interest in snakes or reptiles? Why would you like to join this reptile internship? What do you want to focus on and accomplish?
What is your goal 5 years from now – relating to reptiles?
Have you handled reptiles before? Venomous snakes? List species if possible.
If you are currently studying in a university, or have been – what was your major, minor?
Anything else you would like to tell us or ask us?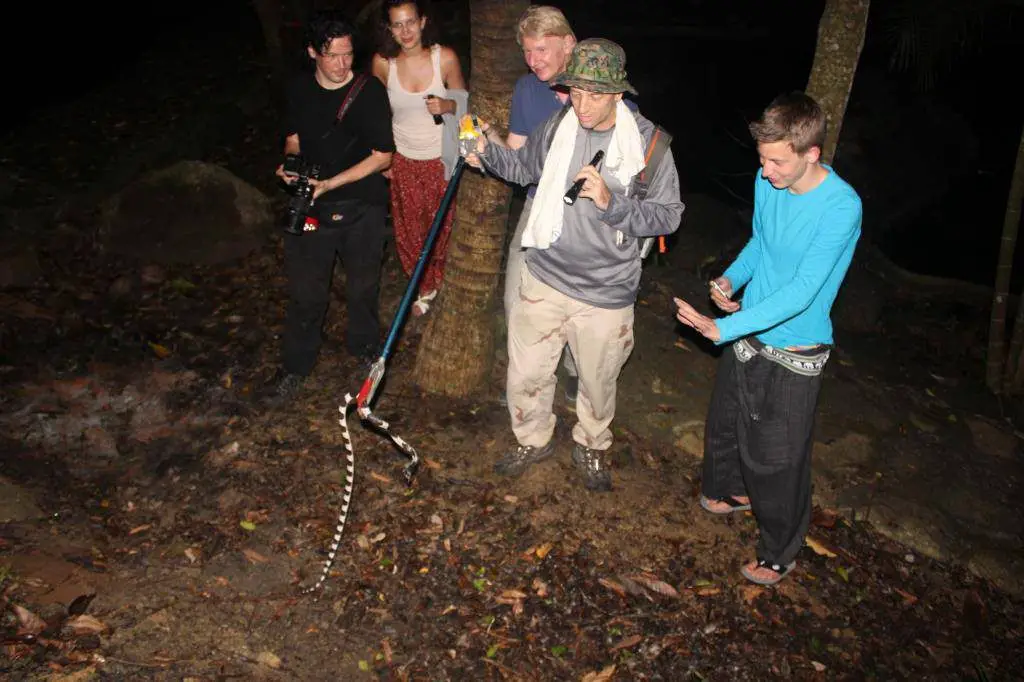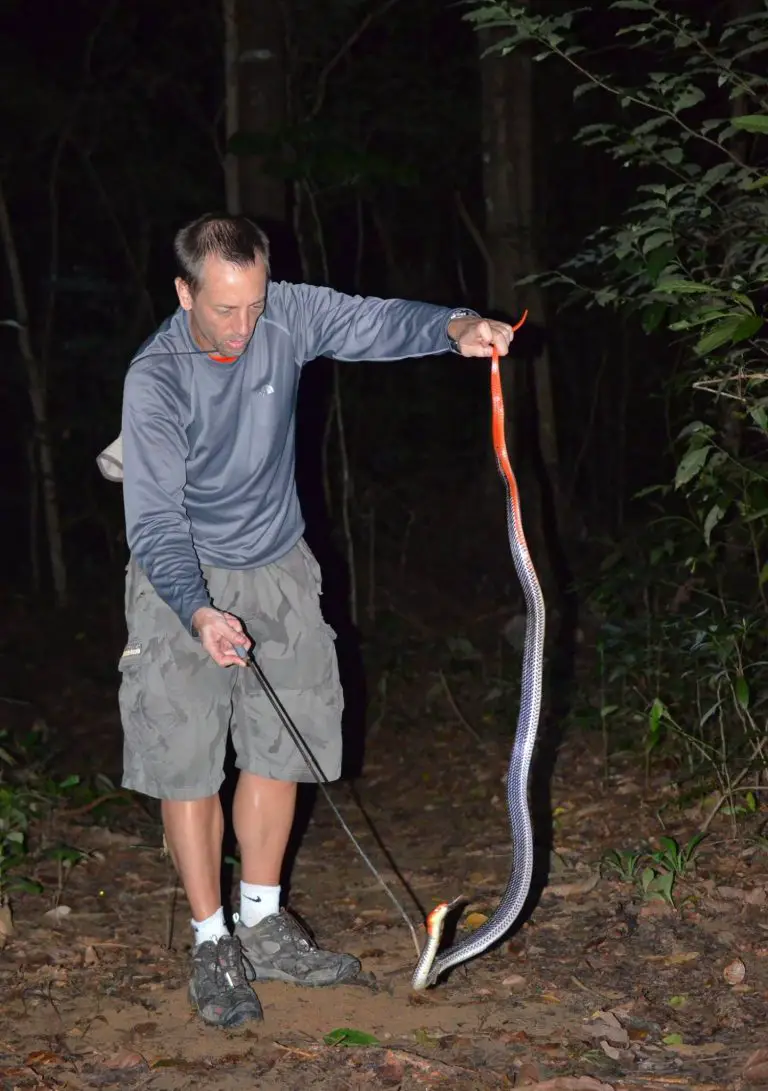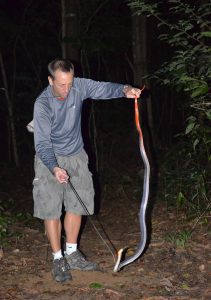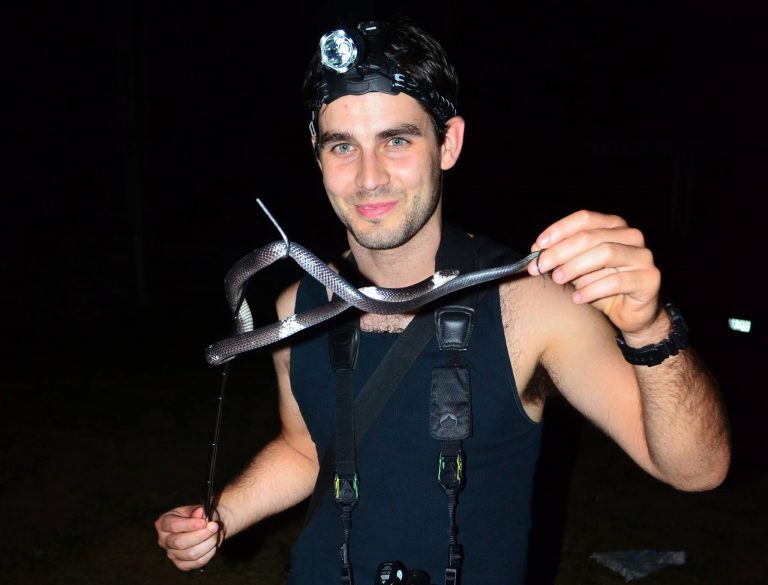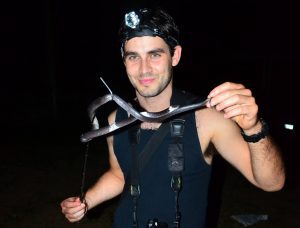 Another Thailand Internship Opportunity
If you are a student of biology/herpetology and you're interested in a long-term internship helping to track cobras or kraits, there is another volunteer internship available for you. This one requires difficult tracking over sometimes rough terrain, and you must be in great physical shape because you'll be walking for 10 to 20 km and more sometimes each day.
You'll stay at the Sakaerat Environmental Research Station in Nakhon Si Ratchasima, east of Bangkok. They require a 5-month commitment (minimum). This is also an unpaid internship, but they offer food and lodging (I believe). These guys are Ph.D. candidates who have serious research going on. If you're a student looking to get into the research side of things, this may be better for you.
If you want more hands-on with as many different snakes and other wildlife as possible, then join our internship.
Sakaerat E.R.S. and other Snake Internships internationally.