International Reptile Internships Available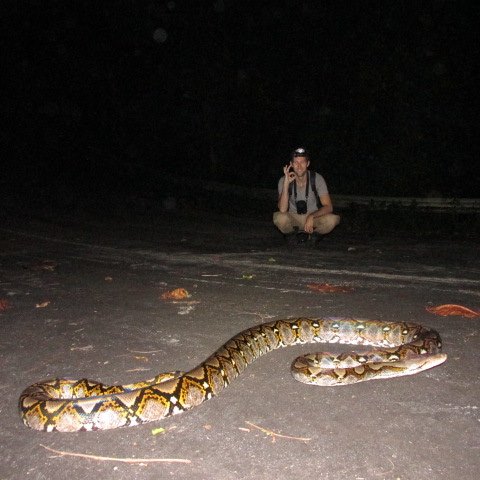 On this page, we'll list some of the details for Reptile Internships available to students and non-students from around the world. No two Reptile Internships will be the same, so please pay attention to the details of each experience offered below.
Of course, we have to plug our own Snake Internship first. The difference between our internship experience and all the others listed below is that you can have (if you choose) more hands-on experience with a greater variety of species than with any other program.
We're sure of that. This includes venomous snakes. If you ever wanted to learn to safely handle a cobra, a krait, a pit viper, a coral snake, or even a king cobra, this is probably the only internship that will give you this experience.
---
Thailand Reptile Internship
Najas Project (Cobra Tracking) Saekerat Environmental Research Center
Located in Nakhon Ratchasima province east of Bangkok, Thailand.
All positions are unpaid. Housing and food will be provided for volunteers for the duration of their stay at the research station.
We are looking for a volunteer for a Monocled and Indochinese Spitting Cobra (Naja kaouthia and Naja siamensis) spatial ecology study. Fieldwork is very rewarding but also physically demanding, so be prepared to work long days, starting at 05:30 and likely to continue well into the night.
Please list the earliest available date in your cover letter.
Cobra Tracking Volunteers Must
track adult male and female Monocled and Indochinese Spitting Cobras,
write weekly summaries on captures, including capture distribution maps
communicate with local villagers in a friendly and non-intrusive manner
record observed behaviors and go through video feeds from camera traps
be able and willing to work long hours in very warm and humid conditions.
Intern Qualifications
21 years or older (exemption can be made for outstanding candidates)
experience with outdoor work (manual labor)
volunteers need to be fit (able to walk more than 10 km (6+ miles) in a day)
respect for biodiversity
health Insurance
a commitment of 6 months or more, (Exception internships students)
MUST be able to provide your own plane ticket to Thailand
ArcGIS, Program R, and extended knowledge of Excel will be a big advantage.
If interested, please email your resume and cover letter to najaresearch@gmail.com
---
Reptile Internships in the United States
1. Zoo Tampa at Lowry Park Reptile and Amphibian Internship
Internship Period: 3 Months (November 25 – February 29)
Deadline: September 3 at 5:00 PM ET
ZooTampa at Lowry Park is currently seeking enthusiastic and motivated individuals interested in learning about the Animal Care field.
Description of Internship:
While working in our Herps department, interns will learn all aspects of reptile and amphibian husbandry with a focus on native Florida herps like the South American anurans, crocodilians, and large tortoises.
Internship functions include, but are not limited to:
Performing daily care and feeding of animals in the collection.
Assisting with the maintenance and fabrication of animal habitats.
Making behavioral observations.
Assisting with record keeping.
Making and distributing animal enrichment.
Assisting with guest interactions.
Please note: Interns will not work directly with large crocodilians or venomous snakes.
Intern Qualifications
Applicants must be Junior, Senior, or Masters level students or recent graduates with preference given to candidates currently pursuing a degree in any of the biological or life sciences.
Ability to effectively work independently and within a team environment.
Must have the ability to follow specific instructions and also be comfortable self-directing.
Ability to communicate ideas and contribute effectively.
Must be at least 18 years of age.
Must have a GPA of 2.5 or higher.
Required Availability
Must be able to commit to a 14-week internship.
Must be able to commit to a schedule of 30 hours per week.
Some nights and weekend shifts may be required.
Physical Requirements
Ability to work in extreme weather conditions typical to west-central Florida (i.e., heat, rain or cold).
Must have physical endurance for long, high-volume days and be able to stand/walk for long periods of time.

Additional Requirements:
If an internship offer is made, it is contingent on:
Candidates seeking academic credit must have arrangements agreed upon between the Zoo and their school before beginning the internship.
All offers are contingent on the successful completion of a criminal background screening and execution of a required hold harmless/liability release agreement.
Candidates will be responsible for the cost of the background check (typically $25 but certain jurisdictions may have additional fees).
Contingent upon receipt of documentation of negative TB test within the last 6 months and Tetanus vaccination within the last 5 years.
Interns must have personal health insurance coverage for illness or injury (as volunteers and interns are not covered by the Zoo workers compensation program).
Benefits
Internships are unpaid and are designed to meet academic requirements, as applicable, and provide valuable real-world experience for participants.
Successful completion of an internship may also yield letters of recommendation, a portfolio of their work when applicable and important networking contacts.
Who is eligible?
Applicants must be Junior, Senior or Masters level students or recent graduates. Applicants must submit an Internship Application, cover letter, and resume in order to be considered for a position.
Please Note: Interns must make their own accommodation and transportation arrangements. This is an unpaid internship.
More Information: https://zootampa.org/intern-at-zootampa/
2. Herpetological Research Intern at the Audubon Zoo, New Orleans, Louisianna
Winter 2019: November 3 – November 30
Herpetological Research Internship Overview
This internship program is geared towards individuals interested in pursuing careers in zoological research or graduate studies and will provide valuable opportunities to gain experience participating in and assisting with herpetological research.
Audubon Zoo's herpetology department is currently developing several in situ, ex-situ, and database-driven studies on reptiles and amphibians. The Herpetological Research Intern will assist the zoo's herpetology department with ongoing research projects, or possibly develop an independent study of their own.
Assigned tasks will include, but are not limited to behavioral observations, data collection, and occasional assistance with reptile and amphibian husbandry as needed. A large portion of this internship will focus on data collection, organization, and analysis.
Interns may also have opportunities to assist with preparing manuscripts for publication, with the potential for co-authorship.
The next internship position is slated to begin in November 2019. Although flexible, this internship program requires a minimum commitment of 8-16 hours per week. This is an unpaid internship.
Intern Qualifications
Current enrollment in, or recent graduation from, a four-year biology program (or related field)
Familiarity with reptile and amphibian biology and husbandry
Prior experience handling and safely restraining reptiles and amphibians
Ability to work outdoors in all weather conditions
Ability to sit and work as a desk/computer terminal for extended periods
Familiarity and working knowledge of Microsoft Excel, Word, and Adobe Photoshop
Familiarity with basic statistical analyses
Valid US driver's license with dependable transportation

Application
Interested candidates should email their resume/cv, letter of interest, and two letters of support (one of which should be from a college or university professor) to rmendyk@auduboninstitute.org.
In the event their preferred placement has been filled, qualified applicants may be referred to other Audubon departments. By submitting application materials, the candidate agrees to release their information to our internship staff.
Website: https://audubonnatureinstitute.org/internships/herpetological-research-intern-zoo
3. Kentucky Reptile Zoo Internship Program
The Kentucky Reptile Zoo internship program offers upperclassmen, college students or recent graduates, the chance to receive hands-on training experience at a facility with one of the most extensive and diverse reptile collections in the world at our location in Slade, Kentucky.
Reptile Zoo Internship Schedule
December-February, March-May, June-August, and September-November. Internships run 12 to 16 weeks.
Deadlines are February 1 for spring, April 1 for summer, July 1 for fall and November 1 for winter.
Interns assist in the maintenance of captive reptiles in the Kentucky Zoo's collection. Interns will give interpretive talks and interact with the public, assist with educational outreach programs, help maintain the cleanliness and organization of the facility, and perform other duties as assigned.
In addition, the intern has the option to complete at least one research project related to the field of herpetology, which can be done to meet academic credit requirements in their institutions.
The intern will NOT be involved in the handling of any venomous species.
Eligibility Requirements
An upperclassmen college student (junior or senior) or recently graduated student
Students majoring in the biological or natural sciences are preferred
A valid driver's license
Personal transportation is highly recommended
Must be willing to work weekends, receiving two days off during the week instead
An ability to communicate effectively with people
Comfortable handling snakes and other reptiles on a daily basis
Orientation to details
Positive attitude and strong work ethic
An interest in reptiles!
Benefits include experience at one of the most well-known reptile facilities in the world alongside professional herpetologists, housing (laundry included), and $55/week stipend to cover expenses.
Interns have been successful in their careers. Many of our former interns now work in zoos, labs, and research facilities across the country!
To apply, send a cover letter, resume, transcript, and at least 2 (preferably 3) references to:
Kristen Wiley
Internship Coordinator
Kentucky Reptile Zoo
200 L&E Railroad
Slade, KY 40376
or email reptilezoo@bellsouth.net