Which Snake NOT to Be Bitten by in Thailand?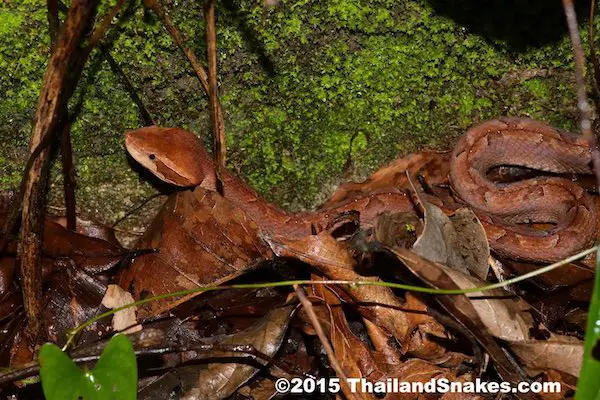 There are dozens of venomous snakes in Thailand that could kill you with a good bite. Almost all of them can be treated in a public hospital with success. If you are bitten by a krait or cobra, get to the hospital quickly.
Which Snake Is the One You Would NOT Want to Be Bitten By?
For me, it's Calloselasma rhodostoma. The Malayan Pit Viper.
In a video, Al Coritz, AKA: Viperkeeper, on YouTube said he'd rather take a bite from one of the mambas than this same snake. No really, he said it. It's here at 1 min. 37 secs. Have a look: https://www.youtube.com/watch?v=-fVDZ2N2GLk
So, what is it about this snake that strikes such fear into people?
It's the total devastation the venom from this snake causes at the bite site and across the organs of the body.
The venom immediately starts destroying skin tissue, blood, connective tissue of all sorts, muscle, and even bone. It actually destroys bone. That's strong venom!
Then, the anti-coagulant properties cause the bitten victim to bleed from all over the body. Blood may be seen coming out of the mouth, gums, nose, eyes, ears, anus, and urethra, not to mention the bite site.
Bleeding can be going on unseen in the brain – causing death in some cases.
It's a horrible thing to go through. If bitten and the wound is burning, you know immediately – you're going to lose some functionality in whatever body part was bitten. And, you're going to lose tissue of all kinds.
It's one snake you don't want to be bitten by. Better not to keep them at home.
When I go herping here where these snakes are common, I very infrequently wear thick rubber boots because I am very careful about watching where every step of my foot goes. I'm constantly scanning the ground for this snake.
Thing is, I might miss one. One could be under a rock I walk close to. One could be under a leaf I step on. I'd be an easy target, despite my constant vigilance. Maybe one time for 2-3 seconds I'm not vigilant because something catches my eye and attention and I take a couple of steps blindly, without looking.
Seeing Al say that on the video I was watching this morning gives me an even greater respect for this snake and I will be wearing boots much more often. If they weren't so damn uncomfortable and slippery, I'd wear them 100%.