If you're looking for General King Cobra Info >
Many people are trying to find a king cobra in Thailand, India, Indonesia, Malaysia, and elsewhere.
How Do You Find a King Cobra?
When I first got into the hobby eight or so years ago, I thought there was some sort of formula I could use to find snakes I was targeting. This was my mentality back then because I was an addicted kayak fisherman who was on the ocean every weekend and a fair number of weekdays floating around and catching gator trout, snook, redfish, and other amazing species.
I figured catching snakes was just like catching fish. Target them with the right equipment, time, weather, and bait, and I could catch whatever I was focused on.
I've since learned that snakes and fish are radically different.
To start with, there are very few snakes you can target and catch repeatedly. Here in Southern Thailand I can usually target a Homalopsis buccata (puff-faced water snake) and have a good chance of catching one because I know where they generally are. Generally.
Sometimes I cannot find them. Where they go is anyone's guess, maybe to the deeper water during the dry season – because at the moment they are very difficult to find in the shallow pools I've been looking in.
Anyway, back to the King Cobra and how to catch one.
There are people who come over to Thailand and are lucky enough to find a snake during their vacation. One fell over a waterfall for a guy who sent me a photo of him standing beside one floating in a pool of water. Then, there's everybody else.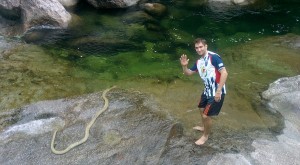 Finding a king cobra comes down to just two things. Persistence, and luck. That's it really. You can try to go out during daytime hours, or limited daytime hours. You can go out early evenings only. You can target patches of bamboo.
You can go out during the mating season. You can go out in areas where they are known to have been previously. You can rub captive king cobra feces all over your pants and walk around the forest. To my knowledge, it is only people who are persistent and who get lucky, that will find king cobras.
I've found four of them now. I live here in Thailand full-time and I am always looking around for them on the road, in open fields or wherever I am. I go looking for snakes in the forest a couple of times a month on average.
I can't remember when I found the first one – there are two that were fairly close together. One was on step 357 of 1,200+ steps leading up a mountain at a Buddhist temple. People were screaming and a friend of mine ran down the steps and ran right into me.
Him: Hey Mr. Vern! Snake! You catch snakes, right?
Me: Sure, uhm, what kind of snake?
Him: Cobra! Big!
Me: How big?
Him: I don't know, 4 meters maybe?
Me: No, I don't catch 4-meter cobras!
I did however go up and touch the tail and poke it with a stick a couple of times to move it off the steps. It was a real beauty – light brown, yellowish, and in perfect shape. Very strong, and definitely at the top of the reptile food chain in the area.
So, I wasn't looking for snakes, and there she was – a real mindblower!
The next time was while looking half-heartedly for snakes and standing on a road that goes up a mountain. I was looking one way and turned around in time to see a massive tail of a king cobra disappearing into the thick brush.
I mean massive as in twice the size and thickness of any other king cobra I'd seen at the snake show I used to visit a few times per month. It was ridiculously large. Apparently, it just crossed the road behind me with no fear at all. I was only maybe 10 meters away.
Another time I found one on Penang Hill in Malaysia while running down a forest trail.
The last time, and this was one of the best for sure – was when I was herping with Tom Charlton, and he found one in the early evening as we herped some man-made pools I'd been to over 100 times before.
I'd never seen a king cobra anywhere near there before. Still, there he was – 3 meters of absolute reptile perfection!
Tom had been coming to Thailand and Malaysia for 12 years and hadn't found a king cobra before last week. They are NOT an easy species to target. You probably shouldn't pay for a herping trip – a wildlife tour that promises to find you a king.
In Indonesia they are actually promising you can find a wild king, but they're putting them in bags and releasing them in front of the tourists that just paid stacks of cash to see one in the wild. It's nuts!
There are two parts to the equation for finding kings – persistence and luck. Really, only luck is necessary – you don't even have to go looking for king cobras to find them. You just need a lot of luck!
Good luck to you!
[Image at top ©Vern Lovic]