Red Tailed Racers (rat snake) are one of my favorite snakes for the coloring, and the attitude. When they are aggravated at you they will flare up vertically the front 1/3 of their body and increase their thickness by double – or more. They look very big and apparently it helps to frighten away predators.
This is a brand new snake – just freshly caught from the wild, at a park nearby – with a waterfall. It's getting into the hot season, so the snakes are hanging out near water during this time of the year.
These snakes are usually pretty calm when handheld, if they haven't been played with aggressively much prior to you getting to handle them. It is tempting to tease them a bit and make them flare up because they are so beautiful when they are showing the defense response. I've seen it enough that I can just let this one be cool. He got so cool he climbed on my head.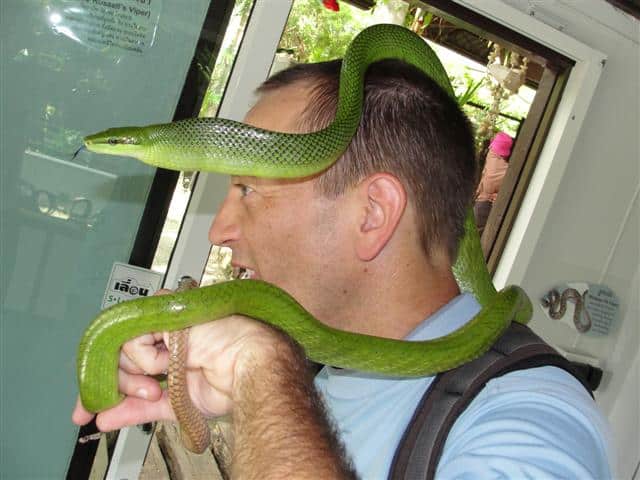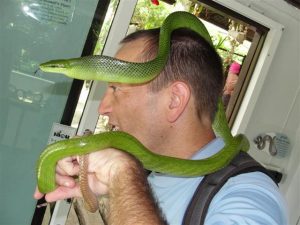 These snakes can give a wicked bite. If you use Google images (images.google.com) to search for Gonyosoma oxychaphalum, you'll see some bloodied hands. These snakes have big mouths (they eat rats), and they have decent sized teeth that can sink right into you. I know guys that have been bitten on the arm before. I'm pretty cautious with this snake, but I didn't put too much in front of his face to get him upset about. They bite quickly and hold on pretty well too!
A nice Thailand snake experience today. Hope you're getting your share too…
Cheers, Vern