The Blue Malaysian Coral Snake is a venomous elapid and is one of the most strikingly beautiful snakes you'll ever see. I've been lucky enough to see one crossing the road in southern Thailand and I didn't have any snake hook to grab him.
[Last updated: 28 November 2019]
Calliophis bivirgata flaviceps (Blue Malaysian Coral Snake, Blue Long-glanded Coral Snake)
3 Sub-species: C. b. bivirgatus in Java – lacks blue stripes on ventral.
C. b. flaviceps in Thailand, Burma, Laos, Cambodia (possibly, no records), Peninsular Malaysia, Singapore, Sumatra and various islands of the Riau Archipelago. C. b. tetrataenia in Borneo has a light yellow stripe on side, without blue stripe.
Thais Say: ngoo bik thong dang
Length: Up to 180 cm, however usually around 140 cm
Range: This beautiful coral snake is found from around Phang Nga and south into Peninsular Malaysia.
Habitat: Usually found at some elevation – over 400 meters. Calliophis bivirgata prefers heavily wooded and wet areas of primary and secondary rainforest.
They seem to prefer living under and foraging under and on top of leaves and fallen trees and rocks.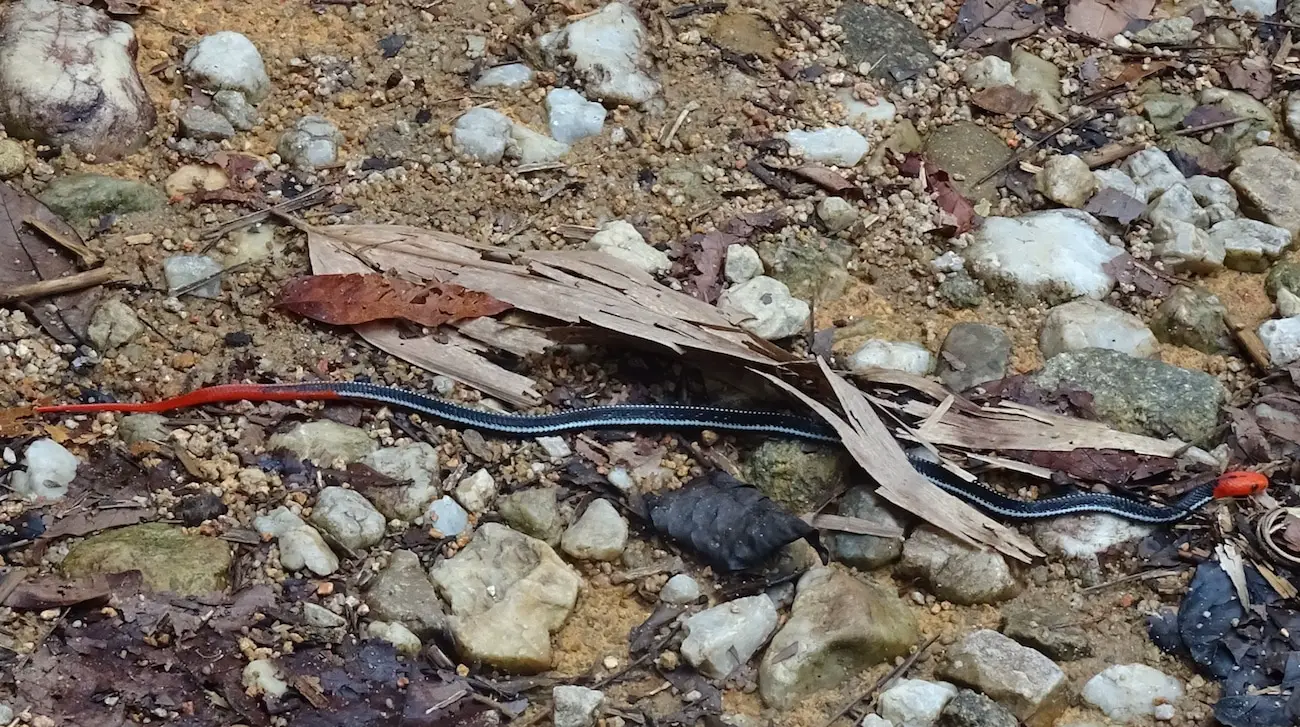 Active Time: These corals snakes are found typically at night, but on rainy and cloudy days they can also be found to be active in the daylight, like some other coral snakes.
Description: Medium-sized, though large for a coral snake, this snake reaches 140 cm typically, and up to 170 cm. or so, have been recorded. The body is mostly deep blue or black with light blue or white stripes along the lower ventral side of the body. The head, venter (belly), and tail are brilliant red. The nose is blunt for foraging the leaf litter where it spends most of its time. Dorsal scale count: 13-13-13.
Defensive Behavior: Always avoiding man and other large threats, they can be very fast as they flip about almost spastically. When they are trapped and tailed, they may attempt to flip over on the dorsal side, exposing a brilliant ventral of red, orange, and pinkish color. During foraging, these snakes are very slow-moving.
Food: Prey includes other snakes, lizards, frogs, birds.
Danger: All coral snakes must be treated as potentially lethal snakes. That said, many people free-handle these snakes at their own peril. Deaths have occurred as the result of envenomation by this snake. One man in Singapore was reported to have died within five minutes of envenomation. Do be exceptionally careful and never hand-hold any deadly snake.
Venom Toxicity: Neurotoxic venom which does not initially present with much pain at the bite site is immediately acting to block nerve impulses. The wound may become numb, and lips may also get numb. Difficulty in breathing occurs as the venom shuts down muscle contractions – the diaphragm and other major muscles.
Antivenom: None.
Key Diagnostic Features: Local pain + flaccid paralysis
General Approach to Management: All cases should be treated as urgent and potentially lethal. Rapid assessment and commencement of treatment for symptoms is mandatory. Admit all cases.
Offspring: Oviparous and clutches of 1-3 eggs.
Notes: One of the most impressive snakes to see in the wild. Fairly common in deep Southern Thailand and Malaysia mountains. This snake is easily confused with Calamaria schlegeli in Malaysia, Singapore, Bali, Java, and Sumatra. C. schlegeli is the Red-headed Reed Snake, which is harmless. The reed snake has smaller scales and no red tail or venter. Venter is grey and white.
Classification
Kingdom: Animalia
Phylum: Chordata
Class: Reptilia
Order: Squamata
Suborder: Serpentes
Family: Elapidae
Genus: Calliophis
Species: C. bivirgata
Binomial name: Calliophis bivirgata
(Friedrich Boie, 1827)
High Definition (1080p) Video of Calliophis bivirgata flaviceps Found During Daylight in Singapore: