Thailand Snakes in the Toilet (Bangkok, All Over) – Video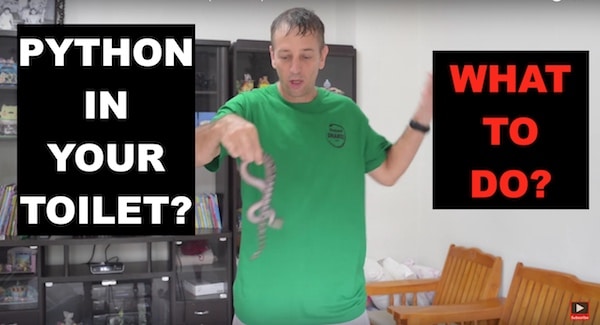 There have been many news flashes lately about:
Python in Toilet Bites Man's Business!
Cobra Attacks Man on Toilet!
DOES THIS HAPPEN OFTEN IN THAILAND?
No. That's the good news. The bad news is, it happens. Prey you're bitten by a python and not a cobra. A python has 72+ teeth, but a cobra can envenomate you and kill you within a few hours. The chances are VERY, VERY VERY slim, but it can happen.
HOW DO SNAKES GET INTO THE TOILET?
They just come up through the pipes, poke their head through the water in the drain trap, find some air, and keep coming up. If you dangle your business down in front of him like a big (or small :( ) frog, he might go for it.
SHOULD YOU BE CAUTIOUS ON THE TOILET?
That's a hard question. I mean, I never thought about it. When I go into outdoor restrooms in Thailand – like at the beach, I always look around to make sure there is no snake there already. I never check the toilet before I squat down.
Should you? I don't know. I mean, your chance of being hit by lightning while having sex are probably better than getting bitten by a snake that comes up through your toilet. In a year, there might be 10 instances of this happening. There are surely more than 10 people struck by lightning each year in Thailand.
Here's a Video I Made To Answer Questions About Snakes Coming Up Through Toilets To Bite You: