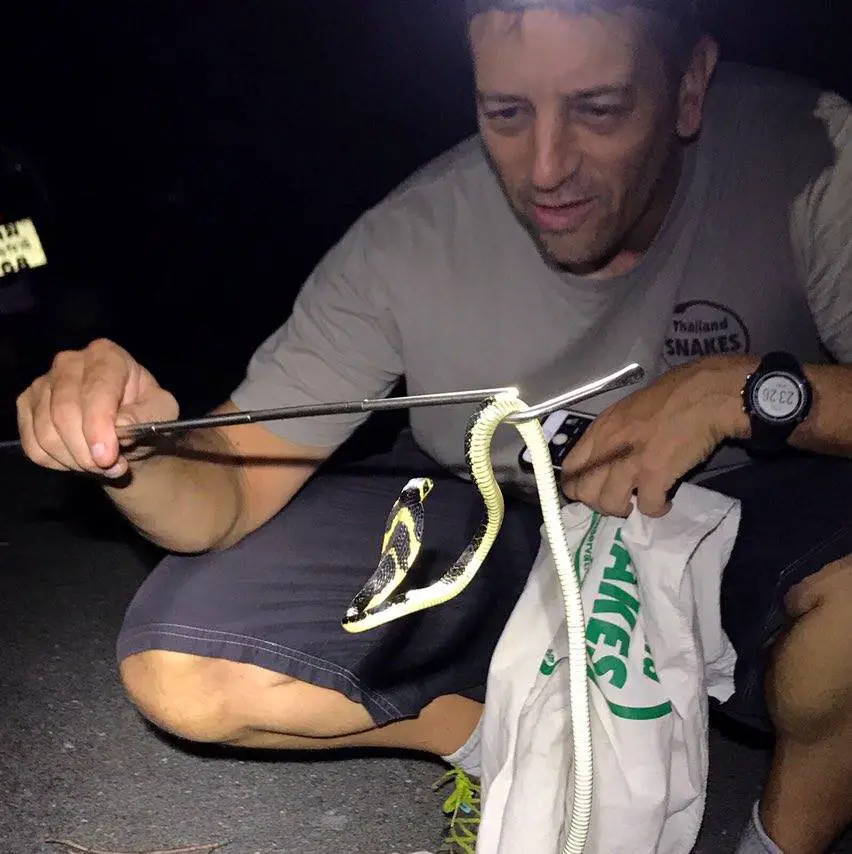 It's a sensational headline, but I thought it was important that you read this if you handle venomous snakes at all – and even if you don't. (King cobra video below)
I got a call from my friend this morning. He told me they caught a 2+ meter king cobra at a palm plantation the night before. He said it was super fast.
King Cobras are fast when young…
Well, my first thought was – when they're young and smaller like that – under 3-4 meters – yeah, they are quite quick. The juveniles up until about 2 meters are usually fast. I have yet to work personally with a king cobra less than 2.5 meters. I want to – but, will respect their speed a lot more.
The juvenile king cobras are like a completely different snake than the big ones. They move differently – darting their heads around constantly, and very fast and short motions.
The bigger kings are more deliberate in their movements and are much slower, even when straight from the wild. Not to call them slow – but, you can work with them to some degree without dying.
I took the motorbike over to see the snake after lunch. My friend was sleeping on a bench. I woke him up with a clamp down on his foot – as if a snake bit him. He didn't jump or anything, so I was disappointed my trick didn't work. No matter – he woke right up and showed me the beast.
He told me it had eaten two red-tailed racers that morning, both of which were about 2 meters in length – but thin. I figured the king would be a bit slow and conserving energy as it digested all that food. I was so wrong.
This king cobra was black with light bands – very light, I wouldn't call the bands yellow- they were more like a yellow/green. It was under 2.5 meters and over 2.0. It had a very long hood – and was really gorgeous to look at.
My friend always goes the extra mile… when he opened up the gate and showed him his face we got a big surprise from this snake.
See the video of this super-fast Ophiophagus hannah below:
This king came up that tree stump faster than any snake I've ever seen. Not that I've seen it all – however, I have seen many fast snakes – rat snakes of all sorts, tree snakes, big, small, thin and fast… and no snake has ever pulled one of these maneuvers on me.
I wanted to post this to give you an idea that you "think you know a snake" – but then one will do something you've never seen before. This has happened to me often as I learn more about monocled and king cobras.
I've probably spent 200 hours working with them and studying them – watching other people work with them. I learned a whole lot in the first 50 hours and still, I'm always learning new behaviors and what these snakes are capable of.
Every snake species has a range of behaviors that they can exhibit. Snake handlers know, in general, what a snake is capable of – because it's a certain species.
However, there are snakes within the species, that, for whatever reason – learned behaviors that are different from most of the other snakes – and when they exhibit them – it can surprise the hell out of you.
Be careful with venomous snakes of all sorts – and never take them for granted.