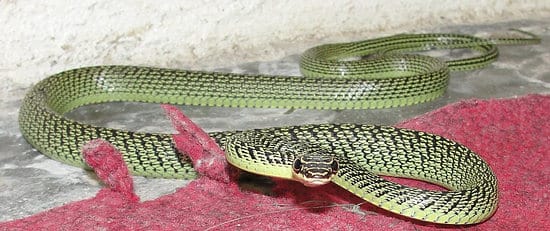 I was hanging out with the snake guys today for a few hours and they got a call to come out and pick up a king cobra. I was excited – but, once we got there the cobra had moved from where it was hiding and we couldn't find it. We did however see the tracks of a very large – 4+ meter python that came the past night to steal a chicken from the guy's pen. Guy said the chicken was about 4kg.
That's 9 lb. That's nothing for a 4 meter python, or bigger. We're guessing the size based on how deeply it sank into the soft dirt.
So, we're on the way back to the snake place and Yaya stops the truck and points left out my window and says – green snake! I jump out and find it among the leaves and grab it's tail as it's trying to get away.
He turns to strike at me – but, can't reach because too many vines in the way.
Nang jumps out of the back seat and grabs the snake so I can film.
They are called "Golden Tree Snakes". They are sometimes called "Flying Snakes". They can jump from 100 meter heights and glide down into the bough of another tree or even just hit the ground. They flatten out when they fall – and they are unharmed when they hit. Amazing, huh?
These pics are from today. The guys went out before I arrived and caught a grey rat snake, as you can see here. Also a beautiful specimen. Shame someone whacked it with a stick at the house it was found at!