How to Keep Snakes Out of Your House and Yard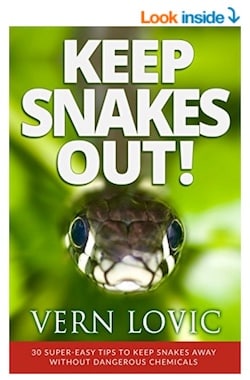 Including Information About:
Snake-proofing your home
Snake habits and behavior
Tips and tricks
KEEP SNAKES OUT!
30 Super-easy Ways to Keep Snakes Away without Dangerous Chemicals
(Illustrated)
Just $4.99 for the eBook
Snakes come into houses, garages, businesses, vehicles, and anywhere that looks safe from rain, wind, and predators. This book was written to help you keep snakes out of your yard and home or business.
This is in PDF format and has the 35 deadly terrestrial snakes of Thailand in detail and in high-resolution images. There are ESSENTIAL FIRST AID Instructions included.
—–
Order Now and Receive the EBook within Seconds
Or, get the PAPERBACK BOOK at Amazon here for $8.99.