rear-fanged
Mock Viper – Psammodynastes pulverulentus – Not Dangerous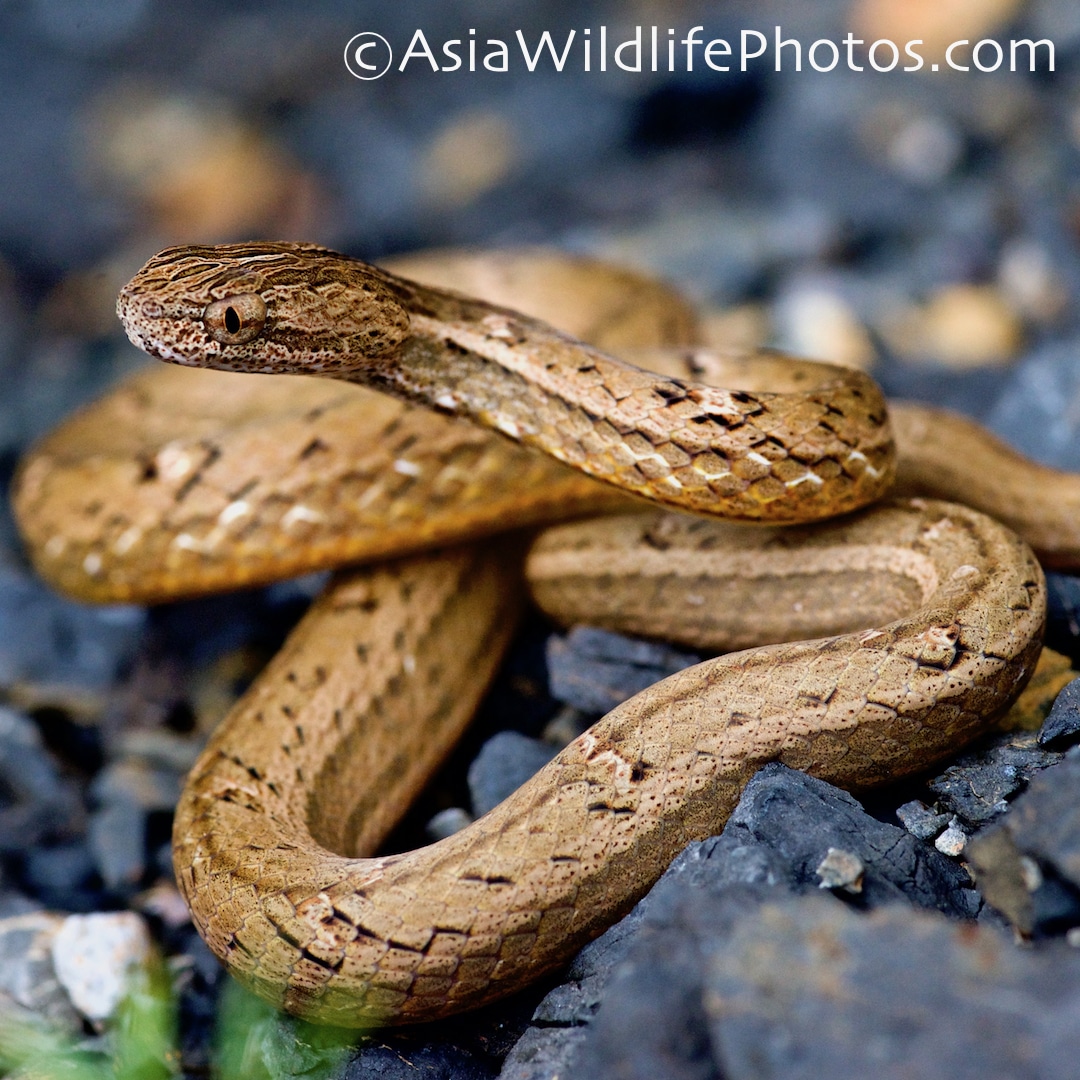 (Page Updated: 10 June 2023)
Psammodynastes pulverulentus (Mock Viper, Dusky Mock Viper, Common Mock Viper)
Thais say: ngoo mok
Length: Adults average about 75 cm (28 inches)
Range: All over Thailand and southeast Asia including Indonesia, Philippines, Vietnam – even getting over to Nepal and the other way, Taiwan.
Habitat: Typically the mock vipers enjoy hilly regions. I found one at Krabi Tiger Cave Temple (the mock viper you see in the images on this page) at the bottom of a limestone mountain, with a skink it had just killed in southern Thailand. Mock vipers can also be found under leaves and brush. Recently we found two of them in some leaf litter on a mountain. Apparently, they like a variety of habitats.
Active Time? Nocturnal primarily, but as I mentioned I found one during the morning at about 10:30 am., and I found two more at night around 10 pm. These Thailand snakes are terrestrial – preferring the ground to trees.
Food: Skinks and other lizards, and of course, frogs – like nearly every other snake in Thailand. The adult mock viper I found in the morning was eating a large skink. This mock viper also occasionally eats other small snakes.
Defensive Behavior: Slow to bite, they coil up as most snakes and strike. I handled mine repeatedly and didn't get struck at but a couple of times.
Venom Toxicity: Probably not toxic enough to hurt people or large pets. Rear-fanged, but not known to cause medically significant bites.
Offspring: This species is ovoviparous, embryos develop inside eggs which remain inside the mother where they hatch. Mating has been observed occurring for over one hour in a tank for m/f mocks in captivity.
Note – Males have 3 hemi-penises, one of the very few snakes with this anatomy.
Notes: These are really beautiful snakes. Mock vipers have a thick, strong body. They are not really vipers, but they do possess a weak venom that doesn't affect humans much. They are rear-fanged. Female mock vipers are larger than males on average in adulthood.
IMPORTANT: There is a chance you will confuse it with the highly toxic venomous snake, the Malayan Pit Viper. It has markings that are very similar, though it doesn't have the giant triangular head of the Malayan pit viper – it is pretty close. I thought I had a mutant Malayan pit viper when I first found this species.
Video – Mock Viper Found at Night
Video – Mock Viper I Caught in the morning in Southern Thailand:
Common Mock Viper Scientific classification
Kingdom: Animalia
Phylum: Chordata
Class: Reptilia
Order: Squamata
Suborder: Serpentes
Family: Colubridae
Genus: Psammodynastes
Species: P. pulverulentus
Binomial name: Psammodynastes pulverulentus
(classified by H. Boie, in year 1827)
---