Oriental Whip Snake in Yellow, Grey, and Green – Ahaetulla prasina

These are some really awesome looking snakes. Usually, they come in brown (tan) and green (งูเขียว) color variations, but Rob Green, who has copyright to the images below – took these photos of a yellow one and a grey one. Quite cool. Rob was on Koh Kood (kut) near Koh Chang in the northeastern Gulf of Thailand when he found these snakes. The yellow images were taken with a Canon 7D. The grey whip snake – with his iphone. Thanks Rob!
After you see these photos – you can see more at the Ahaetulla prasina Fact Sheet (click). There are photos and videos of me catching them in the Thailand forest.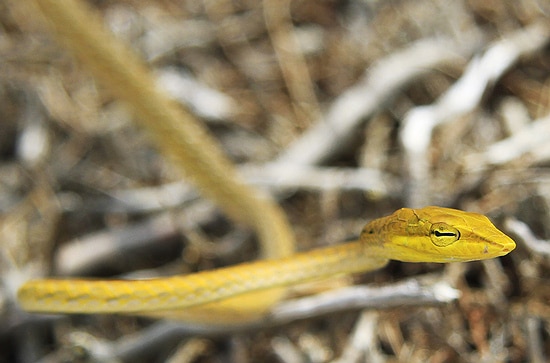 Grey Ahaetulla prasina:

Green Ahaetulla prasina (copyright Vern Lovic):