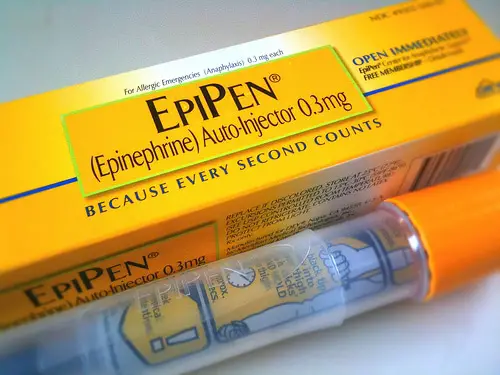 BUYING EPIPEN (Epinephrine) AUTO INJECTOR IN THAILAND
If you are allergic to bees, wasps, snake venom, or any other venom or foods like peanuts, tomatoes or anything – you should consider having an Epipen (Epinephrine syringe) with you while you visit or live in Thailand.
Though I'm very careful as I walk through Thailand's forests, there is always the possibility of being bitten or stung by a venomous reptile, arachnid, bee or wasp that sends me or someone I'm with into anaphylaxis – and requiring the immediate use of an Epipen. The Epipen is an auto-injector which is full of epinephrine, used to stem the symptoms of anaphylaxis, and its use can save lives.
Here is a great page with a video about exactly how to use the Epipen and Epipen JR. [click]
Scroll down to the bottom of the page for availability of Epipens / Emergency epinephrine shots in Thailand. Or, keep reading to find out why I needed one.
In 2006 I think it was, I ate a deep-fried black scorpion of the species – from a local Thai market in Sisaket. I had also eaten a number of fried insects that day, but the scorpion was the final act so to speak. I was recording it all on video for my YouTube channel.
I didn't expect that I'd stay overnight in the Sisaket public hospital with symptoms of anaphylaxis.
I went running at a park in Sisaket right after I ate the big scorpion. I didn't know anything about what part of the scorpion was consumed by Thais, so I ate just about everything but the claws and the big shell. I also pinched off the venom pincer on the tail. I figured I was safe because many people eat fried scorpions in Thailand. It's a delicacy to some.
So, as I'm running I notice a few things:
I'm sweating far too much for the short distance I've done.
My legs and chest are insanely itchy.
My breathing is starting to get bad. I have a slight touch of asthma, that hasn't bothered me in Thailand at all – but my breathing ability was rapidly deteriorating.
My mind was getting cloudy. Like I couldn't think straight.
It was at this point that I realized I had a serious problem. I had some of the same symptoms after being stung by a box jellyfish in Maui a couple years before.
I stopped running and started walking calmly but swiftly to my motorbike a couple hundred meters away. I drove quickly to the apartment my girlfriend (now wife) and I were staying and told her to quickly get me to the emergency room.
She did, and they gave me some antihistamines and an epinephrine shot. I calmed down and my breathing ability slowly came back. At the worst I think I was around 10% of my breathing capacity. I thought there was a good chance I was going to die from anaphylaxis.
But in the morning I was feeling pretty good. I was released around 1000 hours and felt OK from there forward.
SEE BOTH EPIPEN VIDEOS BELOW – !
WHAT HAPPENED?
Probably eating so much shell from the scorpion was too much and I had some allergy to it. The venom in the scorpion was surely neutralized after spending 5 minutes in 400+ degree cooking oil. The shell got me.
So, it pays to know where you can get an Epipen / Epinephrine shot to carry around with you if you are allergic to food, bees, wasps, scorpions, snake venom, or any biting or stinging thing in Thailand. Get one anyway because you probably have no idea if you're allergic to every snake and scorpion in the country.
I found Epipens and similar copycat injectors at large pharmacies in our small town. I think they are fairly common. One way to get it would be to get a doctor's appointment and then tell them you have an allergy to bees and they can write you a prescription for an epinephrine dose you can fill at the one of the pharmacies in your town. I have also ordered them through pharmacies who obtained them from Bangkok.
If you plan on bringing your Epipen to Thailand, ensure you bring the prescription from the doctor too. Much better to be safe and bring it.
Video – Me Eating the Scorpion
Video – Me In Hospital in Sisaket
I thought I was making a lot of sense, but I was still a bit out of my mind: