King Cobra Bites – Why So Deadly?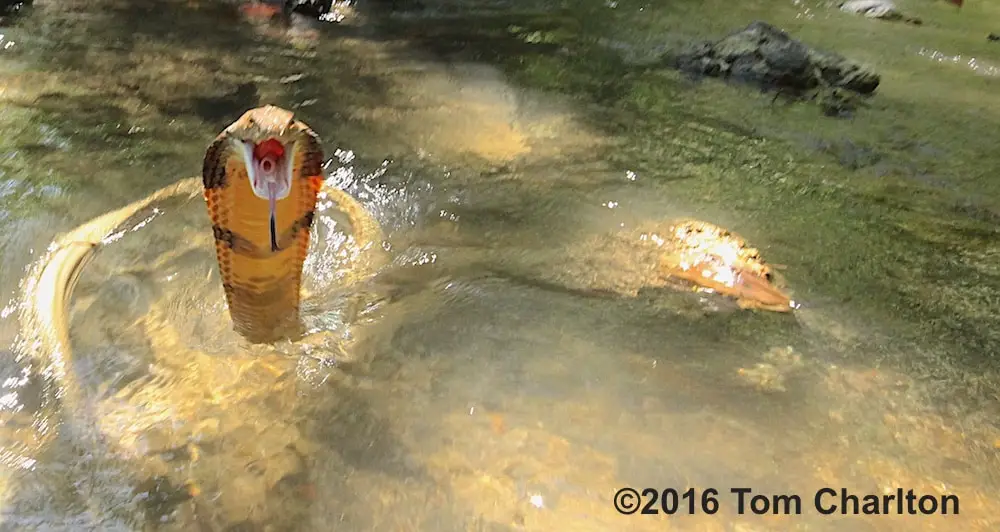 Why Are King Cobra Bites So Deadly?
The King Cobra is the longest venomous snake on the planet. In itself, that doesn't mean much, but the King Cobra bite is terrifying and very deadly for a number of reasons. Here's WHY:
Potent Neurotoxic Venom – King Cobra venom is rated as very toxic on the LD-50 scale, popular with researchers who test the potency of various snake venom on mice injected in various ways with the venom. The venom blocks nerve impulses, resulting in failure of some crucial muscles of the body (diaphragm, heart) if not treated quickly (or, with a good bite, even if treated quickly).
Massive Quantity of Venom – there are few snakes with the volume of venom a King Cobra has in venom sacs to use during a bite.
Perfect Hollow Fangs – King Cobras have an excellent means of injecting venom with their perfectly hollow, and very strong fangs. This ensures a free-flow of venom during the bite. Though the fangs are not long compared to most pit viper fangs, they are thick, strong, and the diameter of the tube the venom comes through is wide enough to permit a high rate of flow.
Strongest Bite of Any Venomous Snake – Before he died (of King Cobra bite), Luke Yeomans of the U.K. measured the bite strength of King Cobras at his King Cobra Sanctuary. He found that the kings bite with a greater force than any other snake.
Kings Bite and HOLD ON – one of the real issues with a bite from a King Cobra is that, when they bite, they don't want to let go. This combined with the fact that they have an extremely strong bite, makes getting one off you just about impossible. It will bite down until its ready to let go. By that point, you might have very little chance of reaching help in time to save your life.
I've read and heard about a number of king cobra bites over the years. In four cases, the person bitten was dead in about ten minutes. In the other couple, the snakebite victim was able to reach a hospital quickly and they lived through the bite and envenomation.
The King Cobra is one of the world's most deadly snakes. Treat it with respect. If you keep a King Cobra in captivity, don't ever get complacent – keep your focus on safety as you handle these amazing snakes!