Just a pic – wanted to share this Thailand snake before I forgot….
Rhabdophis subminiatus, Red-necked keelback. Venomous and dangerous.
A boy, 12 yrs old, in Phuket, Thailand was in the Bangkok hospital for 2 weeks after a bite from this snake. The venom specifically attacks the kidneys.
Once thought to be harmless – these snakes are now considered dangerous. Don't have one as a pet…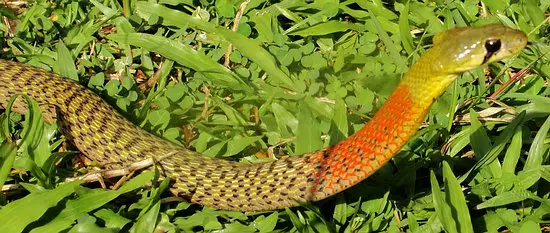 One WHO (World Health Organization) publication about the management of venomous snake bites in Southeast Asia mentions the antivenin for Rhabdophis tigrinus in Japan as having some effect on the venom of R. subminiatus. I am not sure if this is strictly for R. subminiatus found in Japan, or not. Worth a try though if you can get them to send you some antivenin. Otherwise, there is no other option – there is no monovalent antivenin specifically for R. subminiatus.
Japan Snake Institute
Nihon Hebizoku Gakujutsu Kenkyujo
3318 Yunoiri Yabuzuka
Yabuzukahonmachi Nittagun Gunmaken 379-2301
Tel 0277 785193 Fax 0277 785520
Snake-c@sunfield.ne.jp
www.sunfield.ne.jp/~snake-c/
Yamakagashi (Rhabdophis tigrinus) antivenom. Also effective against rednecked keelback (R. subminiatus venom)