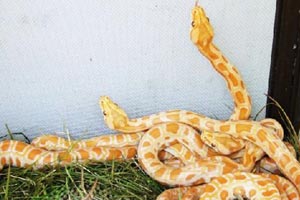 In Nakhon si Thammarat there is a zoo – and they've just successfully bred a very rare snake – the Thai Gold Python (Python molur bivittatus) – in captivity. There are 30 young pythons that will be distributed across the nation of Thailand.
The article (below) says- "The "gold Thai python" once lived in dry evergreen forests in Nakhon Ratchasima, Buri Ram, Chaiyaphum, Khon Kaen, Maha Sarakham, Prachin Buri and Sa Kaew."
Some are calling this a Burmese Python – unless there is another species that looks very similar.
I've never even heard of this phase of the Burmese python snake – apparently, they are quite rare.
There are a LOT of cool snakes in Nakhon Si Thammarat though – at the national park there. If you get a chance – head on over there after seeing Khao Sok – the ultimate wildlife park in Thailand for snakes, any kind of reptile, bird, or animals in the wild.
There are over 200 species of snakes in Thailand – come on a herping trip and see some!