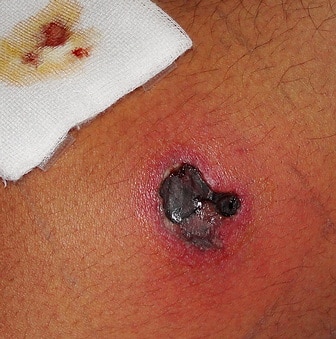 I was visiting my friends at the snake show yesterday. One of them was bitten 5 days ago by a Naja kaouthia during one of the shows. It bit his leg through the pants – and got him with both fangs.
Nobody expects this to be a life-threatening bite because he has been bitten 4 times in total now – by the Naja kaouthia (monocled cobra). Humans build up a resistance to the venom over time, and to see the small wound that he has now – it's hard to believe one of the most deadly snakes in the world bit him.
I'll attach a video here of me interviewing Dtom and Jackie about how the bite happened – when I get a faster internet connection – right now it's junk and not working well for a big upload to YouTube.