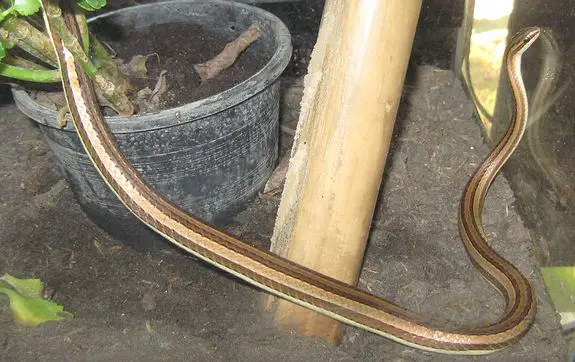 Sent by Paul Donatus, this is an Indochinese Sand Snake that are common in the Chiang Mai – northern region of Thailand.
Personally, I've never seen one in southern Thailand, alive, or dead on the side of the road – so I think we don't have them down here. They attain lengths of about 1 meter. They They eat frogs, smooth scaled lizards / geckos and even other snakes on occasion so reports one keeper.
Indochinese Sand Snake Scientific Classification
Kingdom: Animalia
Phylum: Chordata
Class: Reptilia
Order: Squamata
Suborder: Serpentes
Family: Colubridae
Genus: Psammophis
Species: P. condanarus
Binomial name: Psammophis condanarus
Thailand has such diversity among snakes. There are over 200 species of snake living in the country. It's always exciting to find one I don't know – and have never seen. Always a bit strange handling them – not knowing, is it venomous and toxic to people, or not?
Keep in mind, I don't pick up a snake I don't know with my hands – but when I say "handling" I usually mean on the end of a snake hook, or with snake tongs.
A very cool snake, and apparently Paul has more photos to send. Will get them up as time permits.
Thanks Paul for introducing me to the Indochinese Sand Snake!