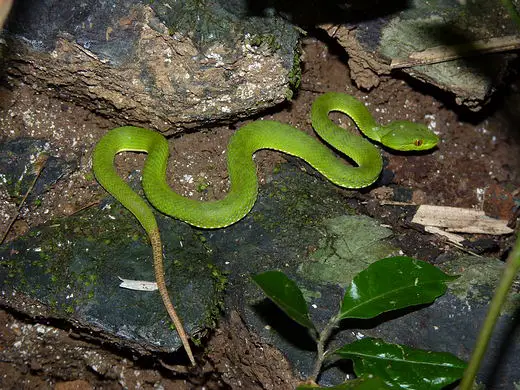 A reader, Jeremy Gatten, sent this photo (used with permission) of a green pit viper he found one night while looking for owls near Wat Tham Pha Plong near Chiang Dao in Thailand's north. I was thinking it was. He had squatted down to rest and heard a little rustle in the brush – and found this amazing specimen of… well, pit viper. I don't know which one it is – but, I'm guessing it's the White Lipped Pit Viper.
Jeremy himself narrowed it down to one of two – either Trimeresurus macrops or Trimeresurus albolabris (White Lipped Pit Viper).
What do you think?
Note – do be very careful not to be bitten by any of the green pit vipers, their venom – while not usually deadly – is quite strong and can cause havoc in the human body. Vipers are typically identified (in general) by their small size (< 1 meter) and the triangle shaped head.