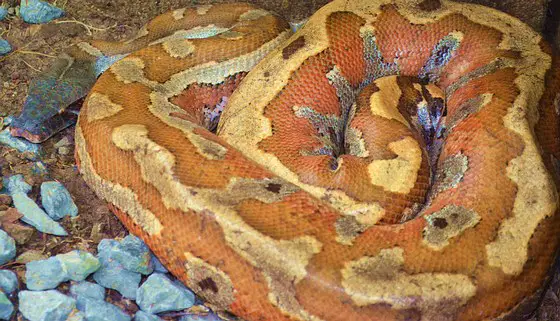 Blood pythons (Python curtus brongersmai) are not often seen in Thailand, but I have had some tourists write me with descriptions of 2 different snakes that most likely was this snake.
Blood pythons are found on rubber tree plantations, near waterfalls, and near rats, chicks, or other small mammals in Thailand.
They have a colorful pattern and are pretty short snakes for how thick they are. They can climb, which you'd have to see to believe. They are so thick and short, you'd think they cannot. They can and do.
Usually blood pythons in the wild are found on the ground under leaves or other cover. They blend right in with fallen leaves.
They are VERY strong, and the couple that I have seen don't appear to become tame quickly. I mean, not even over the course of months. They still strike me if I get too close – nothing like the ball pythons you see in the pet store, right?
Anyway – just wanted to share this blood python photo.
Here is a link to the blood python fact sheet ->