Here are two Thailand snake photos by reader, Kevin Shupe, from Cape Panwa, Phuket.
The first is a Golden Tree Snake, Chrysopelea ornata ornatissima. These snakes glide through the air – they can jump off a tree on a cliff and glide down to the ground. One got away from me yesterday by jumping off the stand he was on. Great snakes. Common. Cool colors. Venomous, but not very toxic to humans.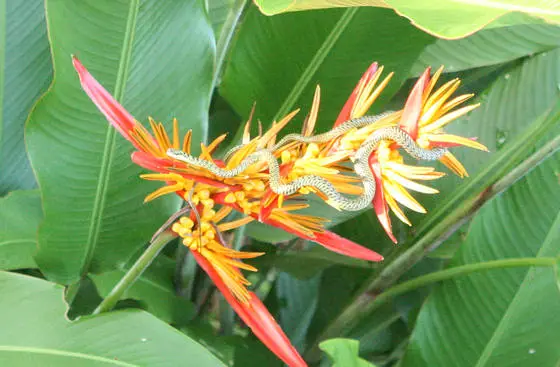 The second is a reticulated Python (Malayopython reticulatus). I didn't add retics to the Snake Poll on the right column there – as one of the most common snakes. I maybe should have. I think I will. See how the retic needs just the smallest ledge to put itself over… balancing on it? In the jungle they are often sitting just like this on a small limb – one you wouldn't think they'd be sitting on.