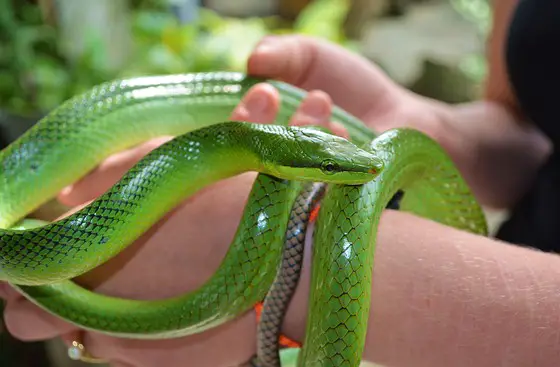 I really love the look of these red tailed green racers – Gonyosoma oxycephalum.
Previous specimens have had bright blue eyes. This one had green eyes and it was really beautiful because it looked as if the eyeball and the green of the eye – continued the dark stripe on the side of the head.
These are rat snakes, and yet their primary food is birds. Recently I saw two of these large snakes mating in a palm tree. The female can get quite large – over 2 meters. The male, a bit smaller – but still – 2 meters. These snakes were oblivious to people… and is not the same snake in the photograph here. This other one was caught in a tree near some homes by a beach in southern Thailand… it is 1+ meters and was quite calm, this being only the second day it was being handled by people.
The girl holding the snake is from Norway and she's really not afraid of snakes at all – the non-venomous snakes Thailand has anyway.
I got a different camera, so was trying it out today a bit. More photos to come – if it ever stops raining.
Here is a link to the Red Tailed Green Racer fact sheet ->
Close up of the red-tailed racer's head below: