Aime sent me a great photo of a Burmese python that was on her walkway. She knew it was a python and figured it wasn't too aggressive, and in this case she was right. Burmese pythons are quite a bit less vicious than their cousins the Reticulated Pythons. Burmese Pythons can grow to 8 meters. Reticulated pythons can also get that big. Blood Pythons very rarely get over 2 meters.
Burmese Pythons (Python bivittatus) resemble blood pythons also – which are found in southern Thailand as far as Krabi province (we've found a couple here in Krabi). I didn't know Burmese pythons or blood pythons to be found in Phuket though. Apparently they are.
Note – these snakes can be confused with the deadly Chain Vipers – the patterns and colors are very similar to the untrained eye. Chain vipers, also called Russell's viper – are found in and north and east of Bangkok mostly, not in Phuket or anywhere south of the Chumphon province area (so far).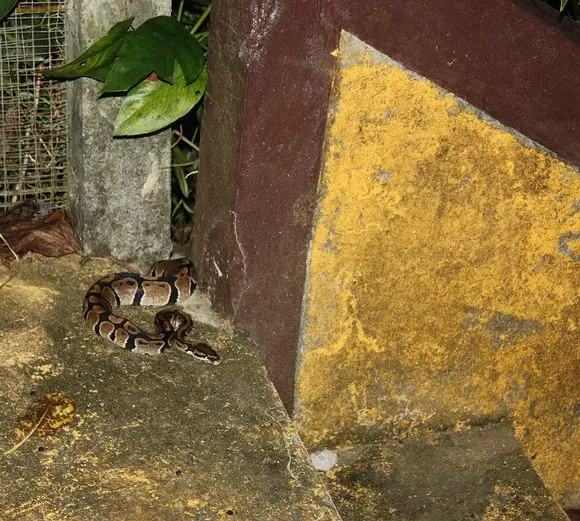 Update – check the comments, some are insisting it is not a Burmese python… I think they are right… must have been someone's pet that was let free in the jungle, and comes around houses because it doesn't fear people.