front-fanged
Small Spotted Coral Snake – Venomous – Dangerous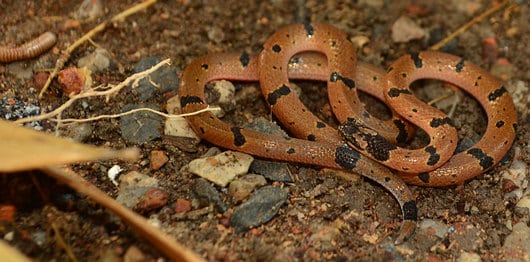 "Calliophis maculiceps" (Speckled coral snake, Small-spotted Coral Snake)
[Last updated: 28 November 2019]
Length: Average max length is 35 cm
Range: These small coral snakes are found all over Thailand and some other countries in Asia. I have seen a couple dozen of these snakes in southern Thailand, usually found by people in their potted plants outside.
Habitat: These snakes enjoy the leaf litter, loose dirt, and cool areas under rotting trees and other foliage. Occasionally they are seen dead on the road during or after rain when they probably come up above ground to avoid water. They are very rarely found during the daytime, and one scientist said they are usually only seen during September and October. But, I've seen them year-round.
Active Time? Nocturnal – active almost exclusively at night, or underground during the daytime.
Food: Very small snakes like the Brahminy blind snake, worm snakes, worms, and probably termite, ant, and other insect eggs.
Defensive Behavior: They curl up their bright red (pink or orange), white and black spotted tail as a defense mechanism. These snakes have little else for defense, as they don't usually attempt to bite. The mouth on the Calliophis maculiceps is very small, yet they are fully capable of biting and envenomating humans.
Venom Toxicity: This is a coral snake, so, the potential for life-threatening envenomation does potentially exist. Their venom is neurotoxic. There are places on the human body where this snake could get a good bite in, given the chance. Between the fingers and toes is an ideal piece of skin to bite. Just be very careful with these, and all coral snakes. Just because a snake has not been known to cause significant envenomation in the past, doesn't mean it won't happen. If you keep this snake as a pet – be very careful not to get too comfortable holding it – it is potentially a deadly snake.
Offspring: One scientist noted a clutch of just 2 eggs.
Notes: These are remarkably beautiful snakes, and yet so small that they could be mistaken for a worm of some sort if. Body patterns can differ slightly. Some, like this juvenile exhibit black stripes and spots. Some have just spots. Some are almost uniformly brown with very few or light spots. The body of this coral snake is round, without a pronounced vertebral ridge. The belly is bright orange, and the tip of the tail has white and black. When the tail is raised, it is quite stunning. These snakes are common and are kept as pets across the world.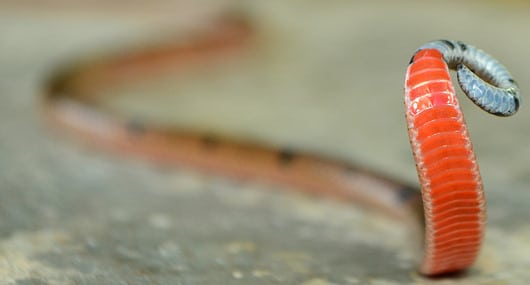 All Photos – ©2011 Vern Lovic
Classification:
Kingdom: Animalia
Phylum: Chordata
Subphylum: Vertebrata
Class: Reptilia
Order: Squamata
Suborder: Serpentes
Family: Elapidae
Subfamily: Elapinae
Genus: Calliophis
Species: C. maculiceps
"Calliophis maculiceps"
(Discovered by Gunther in the year 1858)
Small-spotted Coral Snake Video: