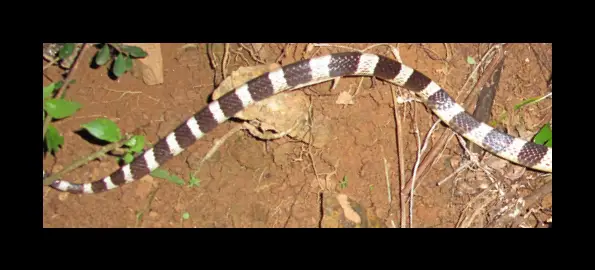 The Malayan Krait (Bungarus candidus), or the Blue Krait as it's sometimes called, is difficult to identify, and identifying it is essential because their venom is so deadly. Their venom paralyzes the nervous system and causes the muscles of the body to stop. That means the heart and diaphragm. You'll need to be on a ventilator to stay alive after a krait bite.
Maybe the hardest to identify deadly snake that you should be aware of is an albino cobra, krait, coral snake, or Malayan pit viper. Albino snakes are not common, but, keep in mind that any white snake that bites you could be quite deadly and you'll want to get to the hospital immediately. If easy to kill the snake – do so. Don't risk being bitten again. Take a digital photo of it, or a few – would be better.
The photo above is the Malayan Krait. The photos below are snakes that are completely harmless. Keep in mind that Malayan Krait babies look just like these smaller innocuous snakes.