rear-fanged
Brown Whip Snake – Dryophiops rubescens – Not Dangerous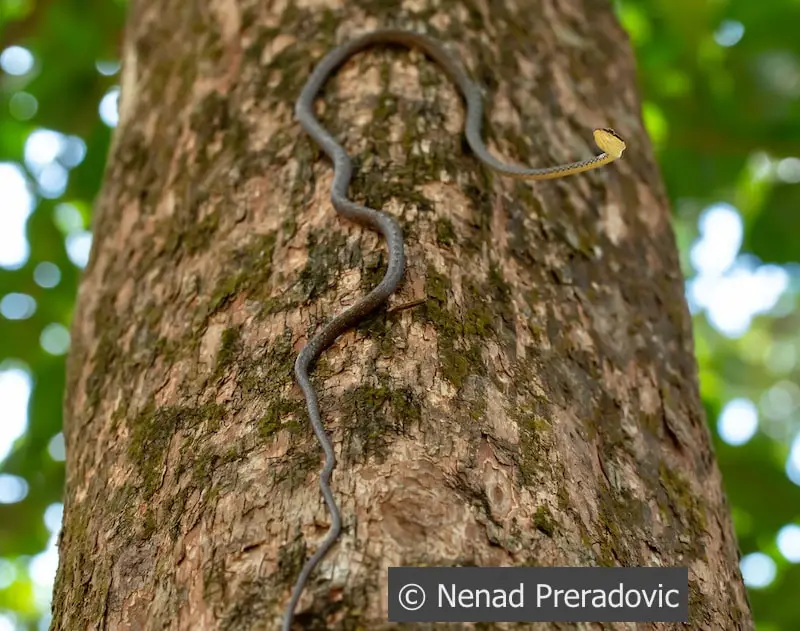 Here is a whip snake that was a bit of a mystery for a while, my first one was finally identified by an American expat snake researcher in Bangkok – Michael Cota in 2007.
This snake is found in Southern Thailand. We've found some in Krabi province of Thailand. There were a couple found in the southernmost provinces – near Narathiwat – near the Malaysian border.
Dryophiops rubescens (Keel-bellied Whip Snake)
Also known as: Red Whip Snake, Brown Whip Snake, Keel bellied whip snake, keel bellied vine snake.
Length: As long as 1 meter (3+ feet)
Description: The head of this snake is browner than any other part of the body. Keep in mind there are red and brown varieties. The head is elongated and has a ridge between the eye and snout. Pupils are set horizontally. The body of the snake is slender – ideal for climbing through vines and light growth.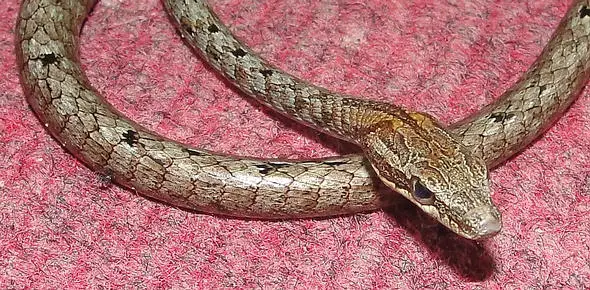 The snake is measured in grams, not exceeding 300 grams for the largest of them. Scales on top of the body are smooth. The underside scales are keeled and are excellent for climbing. The whip snake I caught yesterday was able to climb up a smooth plastic water jug and grip it tightly. I was quite surprised. The head is brown, the neck and the first half of the body is silver/grey and mottled with some black and dark grey. The belly is pale yellow under the head and neck, and toward the tail gets a coloration very similar to the top – heavily mottled and darker brown moving posteriorly. These snakes are thinner than my smallest finger.
Range: Literature has this snake occurring only in Thailand's deep south, but we have found half-a-dozen in various spots around Krabi province – so, obviously the range includes this province, probably as well as others.
Habitat: Trees and ground. I found a few on the ground and some in the trees. They are excellent climbers and love vines and light brush. I've also found them twice on 60 cm diameter trees, climbing slowly. Recently we found one hanging out in the curve of a guardrail on a mountain in Krabi.
Active Time? Diurnal, but possibly also nocturnal – they've been found on trees at night and appear to be hunting. Most of our finds were during daylight hours.
Food: Small geckos and frogs primarily. Possibly small insects.
Defensive Behavior: Accurate strikers! One of the ones we've had didn't bite at all. One got me in the head twice before I even knew it struck. Another tagged my finger, striking quickly and very accurately. I bled slightly. No ill effects were noted.
Venom Toxicity: Weak for humans. Effective for geckos, lizards and frogs. These are rear-fanged colubrids and a prolonged bite could possibly cause swelling and pain at the bite site.
Offspring: Nothing known.
Notes: These are really beautiful snakes resembling the Ahaetulla prasina in body morphology and Gunther's Whip Snake. Studied closely you'd be amazed at the pattern in the body of the snake. Both of ours were brown whip snakes (we are guessing – there are few photos in the lit), there are also red-colored species of this snake.
Scientific classification: Dryophiops rubescens
Kingdom: Animalia
Phylum: Chordata
Class: Reptilia
Order: Squamata
Suborder: Serpentes
Family: Colubridae
Subfamily: Colubrinae
Genus: Dryophiops
Species: D. rubescens
(Classified by Grey, in the year 1835.)
Video – Brown Whip Snake from Southern Thailand:
Video of Another Keeled Whip Snake from Krabi Province in Thailand:
Page Updated: 12 February 2020